Ashley Pinnell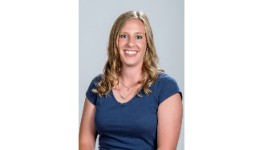 Photo by: Stephen Haas
Community involvement: I am proud to be a supporter of Fellowship for Christian Athletes and their two free athletic camps, a member of Webber Street Christian Church, a business sponsor of Soccer Planet and also Lifeline-connect, a 12-month residential recovery program expanding to a 24-man dorm. I also donate Christmas backpacks to The Daily Bread Soup Kitchen yearly.
Proudest professional accomplishment: I am most proud to have purchased my father's business, Ron's Truck and Auto Repair, Inc., at the age of 24. I not only maintain the quality of service he upheld for almost 40 years prior but also enjoy working with second-generation and high-caliber employees as well as providing outstanding service to second- and third-generation customers. 
I attribute my success to: I attribute my success to my family and my customers. My parents raised me to be accountable and to work hard for what I want in life. I have applied this not only to my business, but also to my relationships with my customers and employees. The loyalty and support of my customers is yet another piece to my success. It is because of these elements that I am excited to come to work each and every day.
Best advice to give or received: Best advice I can give or have received is learn how to best juggle work, family and community, realizing it's constantly changing. Having Wyatt, my soon-to-be 2-year-old son, has definitely put that into perspective as I'm now in that sandwich generation, continue to grow the business and give back to our community.
Interesting fact: Interesting fact you may not know about me is I love to garden and share my bounty with my customers, family and friends.
Biggest career challenge: Adapting and changing to the technological advances we now have. Being a small family-owned business we had always done things the "simple way." Now with all the programs and tools available to us, we now have a new definition for that. I am excited we have been able to adjust but are still able to maintain the quality and personal touches of service we pride ourselves on.
Important lesson I've learned: Most important lesson I've learned in my professional career is to build lasting relationships. Supporting each other as a family -- in the workplace and the community -- is what helps us grow from good to great and endure the trials and challenges we'll encounter in life!
Pivotal career decision: My decision to purchase the business in 2010. I graduated from SIU Carbondale summer 2008, had an amazing job opportunity but passed at the time. My father became ill in 2009, and I was able to keep the day-to-day operations going while he recovered. Once he was better he decided to sell the business and retire. I truly believe God had a plan for me to take over this business and led me to where I am today. I'm excited about the future and what lies ahead. 
My partner/best friend/mom would describe me as: My partner/best friend/family member would describe me as a trustworthy, diligent and tenacious. I care and look out for all involved in my business, personal life and in my community. Problems will get resolved while bringing value to all involved.
To relax, I: To relax I enjoy riding my horses and "choring" around our farm with my family.
From the nominator: "Although pulled in many directions as a Christian, wife, mother, daughter, business owner, equine owner, volleyball player and volunteer, her priorities are in check and she gives what she has as she continues to develop her family, her business, her community and herself to work through others to achieve a common goal." – Eric Kraft, president and executive coach, Kraft Development Group, Inc.