Alexis Cain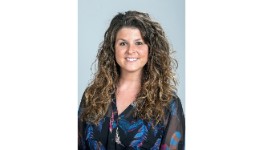 Photo by: Stephen Haas
Community involvement: I have a love for helping both animals and people. I'm involved with the Champaign County Humane Society on the committee for the Furball Gala, Society for Hooved Animals' Rescue and Emergency, Shop with a Cop through the Urbana Police Department, Stone Creek Church-The Big Give, United Way-Power of the Purse and helping different families in need throughout our community. 
Proudest professional accomplishment: As a former high risk juvenile probation officer, I worked with at-risk youth in our community. I monitored one juvenile who resorted to shoplifting in order to keep up appearances with his peers. The amount of cases pending against him and his detainments at the Juvenile Detention Center were disheartening. He was almost 15 at the time and began asking about employment and if we could work on job skills. The day he turned 15 he came to my office and filled out five Jimmy John's applications, Jimmy John's was one of two places that would hire 15-year-olds at that time. We turned in all the applications, and he would call the stores daily following up on them. Weeks and weeks went by and then finally the Green Street location gave him a chance. He worked very hard taking all the hours he legally could. At 16 he decided to work at a McDonald's that was near the hotel he and his family lived in, so he could ride his bike to work. I'm proud to say that he continued working and stayed out of trouble. Both of his cases were successfully closed and today he is in Chicago working with Job Corps. I told myself if I could touch one person's life then my heart would be happy, he is my success story.
I attribute my success to: "You cannot pour from an empty cup."
Interesting fact: While working for probation, I used to wear a bulletproof vest while conducting nightly curfew checks.
Biggest career challenge: In my line of work, respect is key to success.
Pivotal career decision: A pivotal decision in my career was leaving Champaign County Court Services Department after a decade and transitioning to a school setting. This decision followed the idea that the best way for me to make a difference within this community was to utilize my strengths and guidance to encourage the youth to make better life decisions.
My partner/best friend/mom would describe me as: Motivated, compassionate and ambitious
To relax, I: Country drives, landscape photography … and a good glass of Cabernet Sauvignon.
From the nominator: "There is nothing Alexis wouldn't do to help out a person or animal in need." – PJ Trautman, owner, Champaign County Realty