Alex Houmes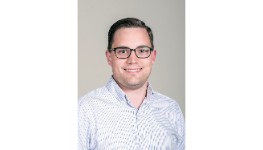 Photo by: Stephen Haas
Community involvement: Ward III aldermen for the City of Hoopeston and vice president of the Lorraine Foundation, an organization operating and restoring Hoopeston's Historic Lorraine Theatre as well as other downtown buildings.
Proudest professional accomplishment: The saving and reutilization of the Willdon Building. The Willdon is Hoopeston's largest downtown building and had sat vacant for 15 years. Under the umbrella of the Lorraine Foundation, and assistance from the Vermilion County Landbank, I was able to acquire the 110-year-old building for the use of business space. Just six months after taking possession, the doors were reopened. The Willdon now houses four business with the potential for many more.
I attribute my success to: The work ethic, drive and attention to detail instilled in me by my parents.
To relax: I listen to audio books.
From the nominator: "Besides his activities as City