Stanfield Chiropractic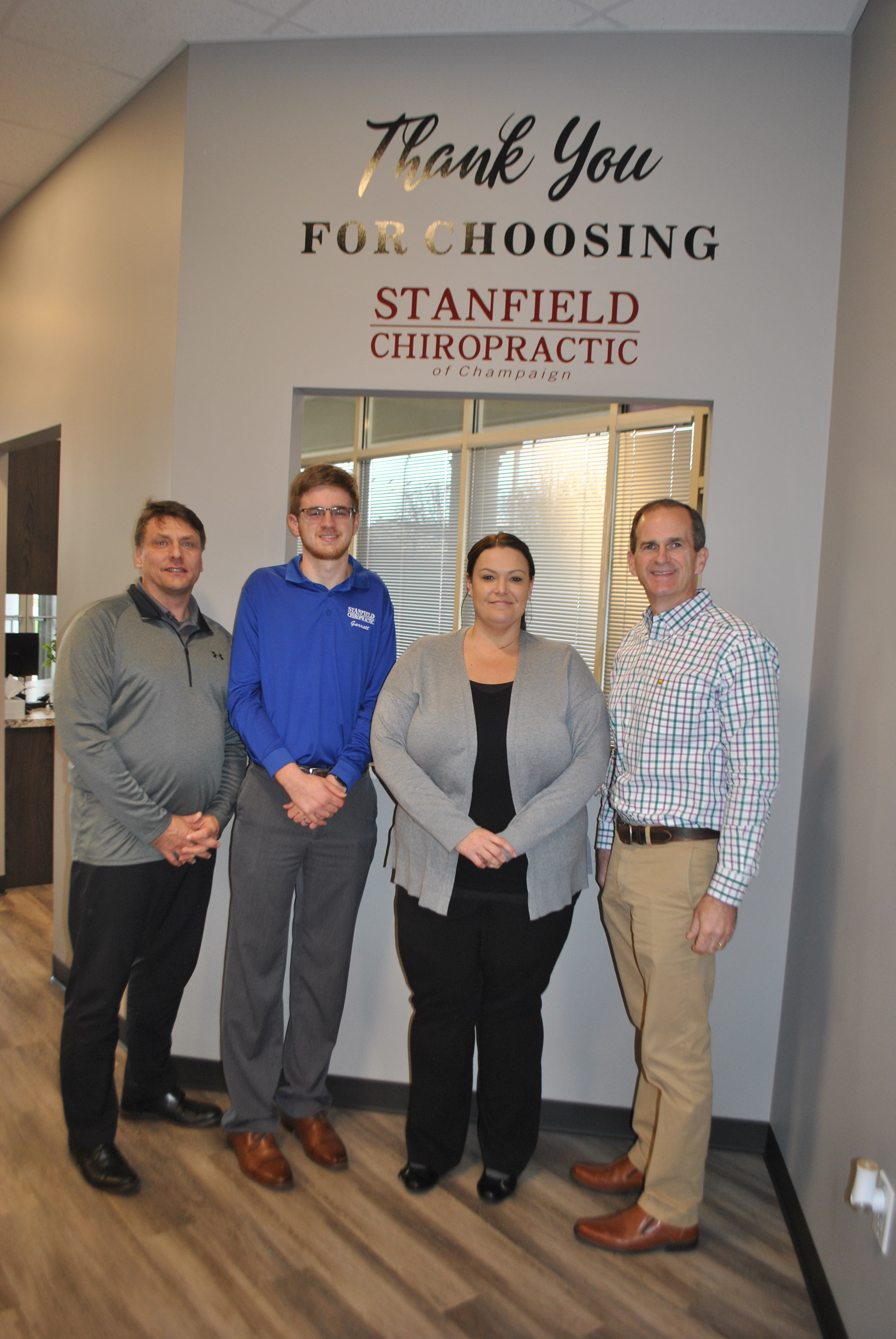 Photo by: Christine Walsh
Stanfield Chiropractic, with offices in Effingham and Mattoon, continues to expand. Stanfield Chiropractic has opened an office at 1102 Windsor Road in Champaign.
The chiropractor in Champaign is Dr. Jim Womick, who got his bachelor's degree in human biology and doctor of chiropractic degree from Logan University College of Chiropractic in Chesterfield, Mo.
Womick practiced in southern Illinois for 25 years.
Founder Dr. Rodney Stanfield is an Effingham native who also graduated from Logan. He's practiced for 30 years, with the last 28 in Effingham, and is a member of the Illinois Chiropractic Society and the American Chiropractic Association.
"We focus on family chiropractic all the way from young children to the elderly," Stanfield said, noting that in Effingham his patients range from 6 months to 94 years old. "Our purpose and our goal is for wellness care. Most people seek us out because they're in pain. Our goal is for them to stay out of pain and stay mobile."
The clinic has offered a class called "Stay Well: The First 100 Years," a title that sometimes draws chuckles but that Stanfield said reflects the life expectancies that some experts say his generation will have, with the next generation expected to reach 105. "Our thing is maintaining your mobility for longevity," he said. "A sedentary lifestyle is very detrimental. For a loss of strength and stamina, it's a slippery slope."
With the opioid epidemic, the clinic's goal is to offer safer and more effective alternatives to treating pain. "It is a natural alternative to narcotics," Stanfield said.
In addition to back pain, chiropractic care can be a treatment option for shoulder and hip pain, carpal tunnel syndrome and even headaches, according to Stanfield. He said that about 60 percent of headaches originate in the neck. "We have great results with that," he said.
Stanfield quoted statistics that say about 80 percent of the population experiences lower back pain. Some of the contributing factors are that most people don't get enough exercise and many are overweight, he said.
Womick agreed. "Sitting is the new smoking," he said. "We don't get as much exercise as we should."
Stanfield Chiropractic also offers physical therapy. While chiropractic helps with mobility, physical therapy helps with stability, Stanfield said. "When we combine those two things, we get the best of both worlds," he said.
While some other chiropractors offer additional services, Stanfield Chiropractic chooses not to. "We concentrate on what we're good at and stay with what we're trained to do," Stanfield said. "We feel strongly about that. When you focus on one thing, you do a better job."
Stanfield Chiropractic started in Effingham and then opened its Mattoon office two years ago. Stanfield plans to open two more Central Illinois offices.
Stanfield saw a need for the Champaign clinic. "It's obviously a growing community," he said. "The people are very nice and have been very welcoming to us. It really fits in our original plan. We're all from Illinois and we want to continue to live here."
Stanfield thinks the business's constant focus on improving patient care makes it unique. "Just having a heart for loving and caring for people," he said. "We really are concerned about people losing their mobility and the opioid crisis."
Womick was drawn to chiropractic because he saw it as a medication-free alternative to traditional medicine and an effective way to treat sports injuries. "It was just a natural fit for me, and I found out I was good at it," he said.
Stanfield's interest in the field started at a young age, as his parents received chiropractic care. "I knew in junior high school that's what I wanted to do," he said.
The clinic participates in a national program called The Give Back Movement in which it reaches out to various groups and employers with wellness programs, special screenings and safety meetings offered during a free lunch. The business offers its first visit – complete with consultation and exam – for $20, which is then donated to a local charity over a 12-month period. In Champaign, the charity will be Crisis Nursery; in Mattoon it's Camp New Hope, and in Effingham it's Family Life Center. "It's an awesome organization," Stanfield said of Crisis Nursery, which also has an Effingham location. "The charities we pick are good, solid groups doing things for people less fortunate who are having struggles."
Appointments can be made by calling 217-954-0124 or requested online at stanfieldclinic.com. Office hours are 8 a.m. to 6 p.m. Monday through Wednesday and Friday and 8 a.m. to noon Thursday.