Scrubs and Cuts offers the 'full works' for pet grooming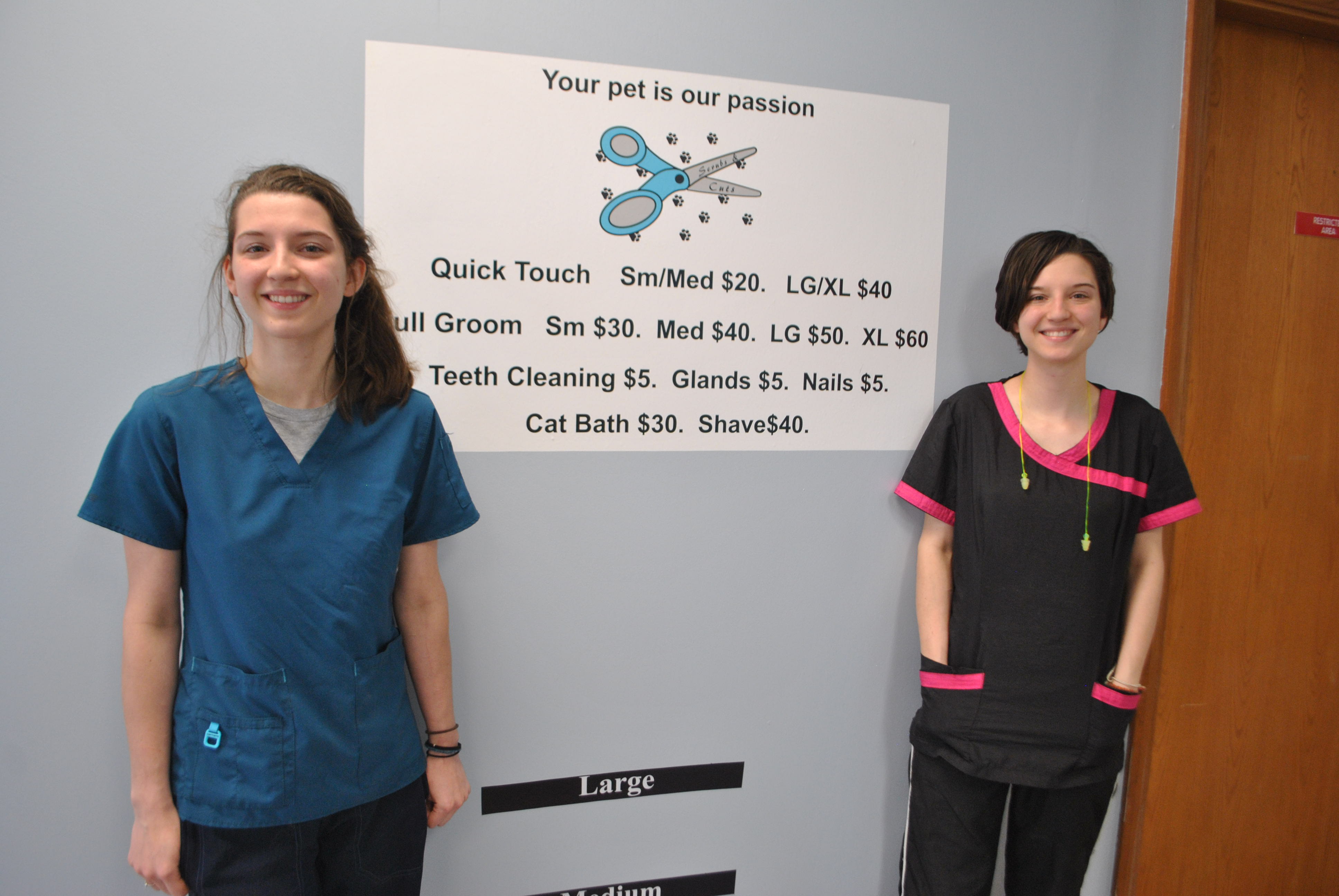 Photo by: Christine Walsh
Grace and Kaylin Dodd have loved animals ever since they can remember. It's not unusual for the 20-year-old twins to rescue an abandoned stray cat or dog near their home in rural Fairmount.
The Dodds, who attended Jamaica Elementary School for first and second grades, were briefly privately schooled and were then homeschooled. They had a menagerie of pets growing up: Rats, chickens, ducks, peacocks, rabbits, a raccoon and "a lot of cats," Grace said. Kaylin's dream pet is a French Bulldog; Grace's is a guinea pig and dairy cows.
Grace, who enjoys painting, once thought about becoming a tattoo artist, but the school she wanted to attend was in New Jersey. That was out of the question because it would have meant separation from Kaylin, her best friend.
Kaylin had attended Hair of the Dog Pet Grooming Academy and Salon in Monticello and worked at Angel Paws and decided she wanted to go into business for herself. "I've always wanted to have my own business," Kaylin said.
The Dodds' father found the location in Suite 17C at 1717 Philo Road in Urbana through Grace's former boss at the Pink Pig. Truly a family affair, the twins' mother came up with the name, and Grace created the design of the business logo. "I worked on it for a few weeks," Grace said.
The business opened after a couple of months of working on the building. The former hair school and office was painted, drywall was installed, the 1970s tile and carpet over it were replaced with new flooring, and a grooming bathtub was installed.
So far they have no regrets about the business. "It's fun," Grace said. "I enjoy it. People are coming back, and we're starting to get to know them and their pets. It's pretty interesting."
"We get along really well," Kaylin said. "My favorite part is seeing the dogs afterwards. The owners get excited at how good they look."
Scrubs and Cuts offers quick touches, full grooms, teeth cleaning, glands, nails, cat baths and shaves. The Dodds, who have a Great Pyrenees and a Shih Tzu at home, don't hesitate to take in large and extra-large dogs like Saint Bernards and Newfoundlands. "My goal is to get a Great Dane in here," Grace said with a grin.
"I love Rottweilers, and we have had Pitbulls," Kaylin said, adding that Scrubs and Cuts accepts all such breeds.
"Some dogs enjoy being groomed," Grace said. "They love it."
One Corgi client fell asleep in the grooming tub while getting his first grooming experience. An Australian Shepherd fell asleep on the grooming table.
Kaylin feels that part of her job is educating pet owners – for example recommending a style of grooming that will help keep the dog cooler in the heat. "A lot of groomers don't want to tell them what's best for the dog," she said. "But I want to be honest."
Grace, a voracious reader, has always devoured anything about animals, as well as history and plants. Grace is sometimes able to teach Kaylin things, like how to create eyebrows on a schnauzer/poodle mix.
Kaylin aims for all of her clients to be glad they came. "We don't try to force dogs," she said, explaining that while dogs may initially be stressed at grooming, "normally they're a lot better when they come back. I want the dogs to enjoy it."
The Dodd twins have talked about possibly expanding Scrubs and Cuts to include a daycare in the future, "but it's pretty much just grooming right now," Grace said.
Scrubs and Cuts takes walk-ins from 8 a.m. to noon Tuesday through Friday, with the last appointments at 3 p.m. since closing time is 5 p.m. Saturday hours are 8 a.m. to 1 p.m. "We'll take as many as we can because we're new," Kaylin said.
They can be reached at 217-722-3736.