Improving with improv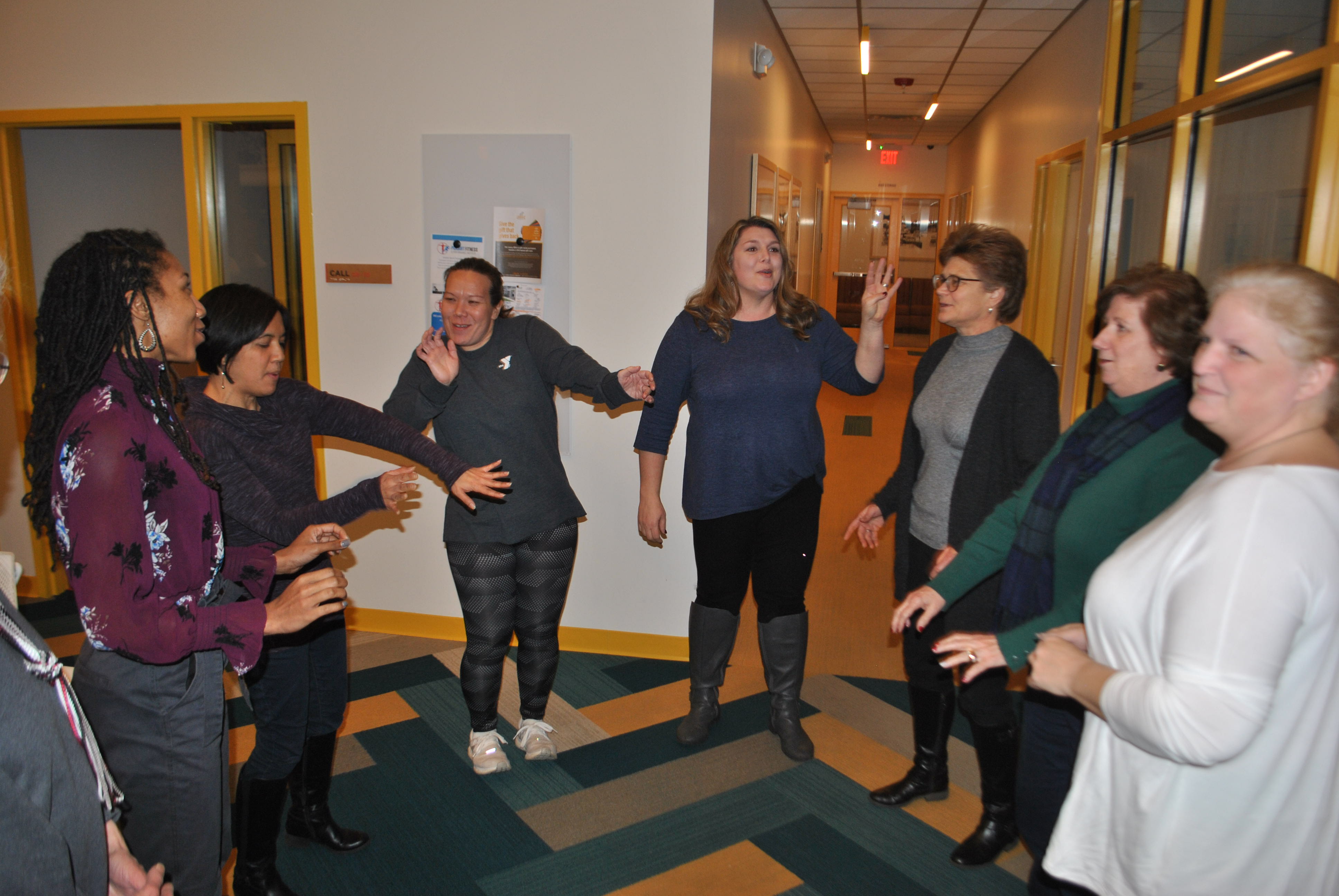 Photo by: Christine Walsh
In an increasingly unpredictable business climate, there's value in having presence of mind.
That's why in 2017 Jenette Jurczyk decided to use her 20 years of professional theater training and experience to become a business development and marketing consultant to teach improvisation skills like ingenuity and creative communications.
While a lot of people may associate improv with ad-libbed humor, it can refer to any kind of impromptu acting, and Jurczyk says that using her skills to reinforce business techniques has serious worth.
Jurczyk, who earned a bachelor of fine arts in theater and an MBA from the University of Illinois, has expertise in interview coaching and speech and presentation skills. Through her company, Key Light Consulting, she works one-on-one with professionals to overcome nerves and build confidence in improving professional presentations, interviews and media interactions. Key Light also offers team building workshops for executive teams and boards.
"Whether it's a sales pitch or an interview, you're always performing," Jurczyk said.
The name Key Light refers to a theater term for the light that is the brightest and most visible for an actor to be in. "It's when you find your best self," she said.
Jurczyk grew up in New Jersey and always wanted to be an actor. She did film and theater in New York for two years and Los Angeles for 10 years before returning to Central Illinois to marry her college sweetheart.
Jurczyk fell into property management as a career while continuing to be involved in acting at The Station Theater in Urbana and Parkland College in Champaign, as well as improv with a local troupe called The Abe Froman Project.
Jurczyk first used her acting background to coach some students who worked part-time for her employer when they went to interview for full-time jobs. "Both of them gave me really great feedback," she said.
Now Jurczyk has done consulting for Northwestern Mutual, Express Pros Employment, Women's Business Council, the Champaign Public Library, Executive Club of Champaign County, Busey Bank and the Gies College of Business at the University of Illinois.
"The last 18 months have been full of growth and change," Jurczyk said.
Jurczyk is also the national director of The She Said Project, an organization that empowers women and teen girls through live storytelling events. She joined in 2015, during the third That's What She Said show at the Virginia Theatre. Along with Be the Benchmark, The She Said Project has added That's What Teens Say, three days of empowerment, confidence and communication building for youths. That's What She Said expanded into Bloomington in 2019, and there are plans to bring it into more geographical regions. "Right now, I'm talking to women all across the country," Jurczyk said.
According to some studies, people fear public speaking more than death. "I think it's the fear of judgment, what people will think," Jurczyk said. "We're afraid of eye contact and social engagement, and electronics just complicate that."
Jurczyk recommends rehearsing or practicing. "If you prepare your body, words and stature, that's one huge step," she said.
Jurczyk helps professionals with "key messaging" – being able to give an "elevator speech" in a clear and concise manner with confidence in what they bring to the table. "Knowing who you are and what you want is being authentic," she said.
Jurczyk said improvisational skills can come in handy when unexpected snafus happen. "Improv is all about whatever comes at you," she said. "It teaches flexibility and agility."
Jurczyk cited the example of Katherine Shindle, who lost an earring during the Miss America pageant in 1998 but kept going without missing a beat and won. "Sometimes people are more impressed because it takes skill," Jurczyk said.
She said most audiences are sympathetic and not secretly waiting to judge. "Everyone makes mistakes," Jurczyk said. "Things happen."
Improv can also help people to have stories prepared for when they might need them, Jurczyk said. "The style of interviews has changed into storytelling sessions," she said, explaining that employers often want examples of how applicants have handled adversity on the job, what they've learned and what they would do differently. "It's about thinking on your feet," she said.
A popular improv game known as "Yes and …" that requires creative cooperation can be useful as well, according to Jurczyk. "Our default setting is 'no,'" she said.
That mindset can also make people see a rejection from a job applied for as a "no," Jurczyk added, rather than realizing there may have been dozens of people who applied for the same position. "Your voice and your story is a gift," she said. "You need to offer it and present it as a gift."
Jurczyk said the most common complaint that public speakers receive is that they spoke too quickly. She noted that people often do that when they're nervous and that once they hear themselves, they become more anxious and speak even faster. "It becomes this avalanche," she said.
Jurczyk compares preparing your voice, face and body before speaking to stretching before running 10 miles. "People walk into presentations cold all the time," she said. "Warm them up and they will perform better for you."
One acting technique that Jurczyk teaches involves shaking out each limb and counting down to generate energy.
The techniques that she teaches are for not only large audiences but one-on-one situations, Jurczyk explained. "It applies 100 percent to networking," she said. "You're going to be the one everyone wants to talk to. There's not a person who couldn't use some help with their people skills, networking and presentation skills," Jurczyk said.
One way Jurczyk helps people to boost their confidence prior to a speech or interview is through a "power stance" – chest lifted, head held high and hands on hips. "You can't help but feel confident," she said. "It's muscle memory. It changes your power; you're immediately more interesting to watch."
Jurczyk sometimes has to remind people not to rush through what they're saying during a presentation. "You can take your time; people aren't going away," she said.
Jurczyk also teaches people about taking up space. She demonstrates that by having people get in a position to make themselves as small as possible, saying the phrase, "I am fierce" and then doing just the opposite with their body. "It comes out completely different," she said.  
A common mistake speakers make is not having any eye contact with the audience and staring down at a paper, Jurczyk said. Instead, speakers should try to engage with audience members, she said. "It's going to make you uncomfortable – do it anyway," Jurczyk said.
Jurczyk teaches "the landing method," which helps audiences to remember what a speaker says. "If you don't give it enough time to land, sink in and be processed, they won't remember it," she said. "Their brains are still processing. There are speakers who can do that. You never want to feel uncomfortable at silence."
Vocal inflections and facial expressions can help with that, Jurczyk explained. "You can use your body and your face for subtext," she said. "It's not just what you're saying but how you're saying it."
An exercise that she uses to demonstrate that is to have people say the same thing to a grandparent, a boss and a 5-year-old child to notice how differently the message is delivered each time.
Finally, it's important to know who your audience is so that you can tailor your message to fit them, Jurczyk said. In fact, she is writing a book called "Who Are You Talking To?" that will help people customize what they're saying, depending on who's listening.