Blue skies ahead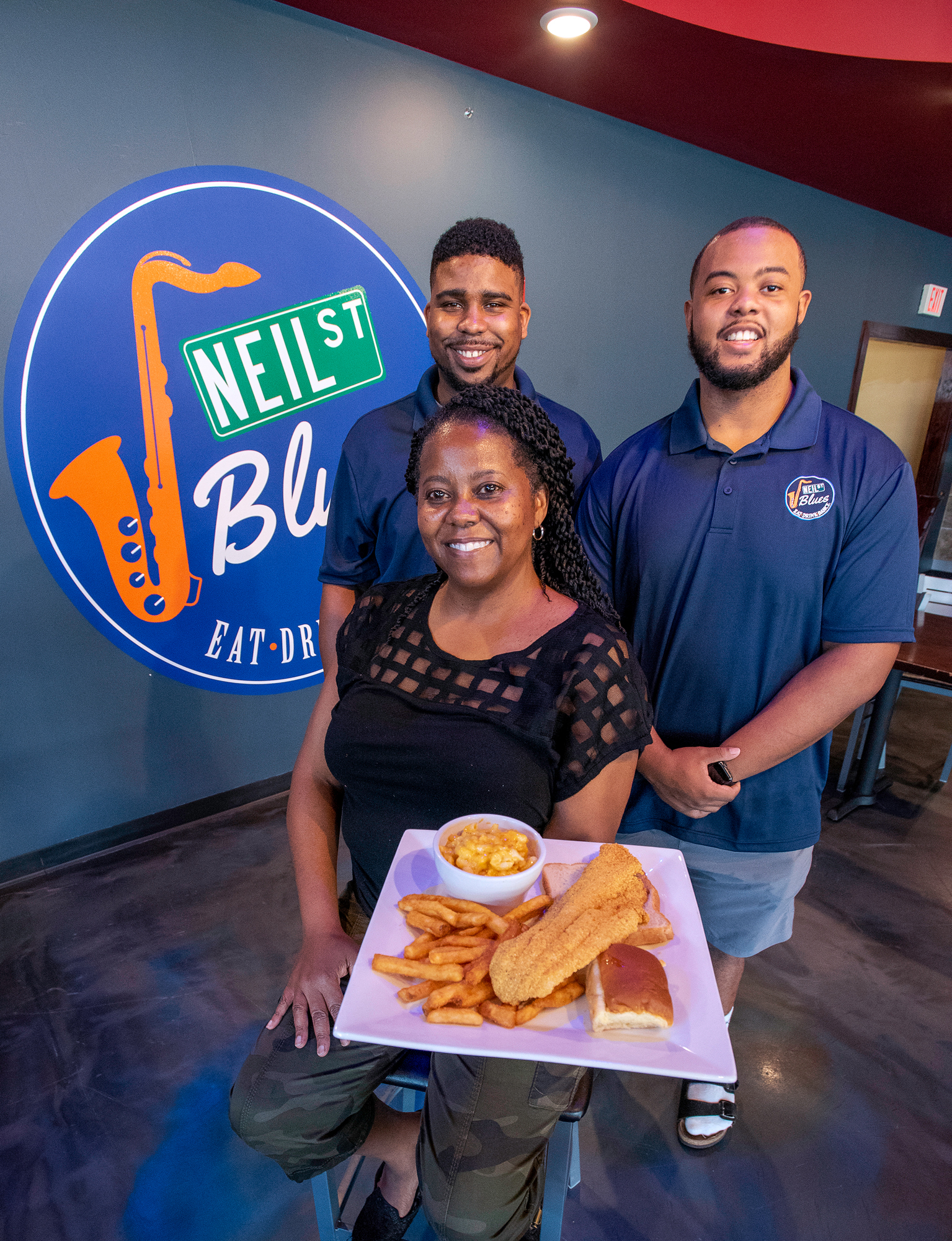 Photo by: Photo by Robin Scholz/The News-Gazette.
Gayle Starks has been busy.
In addition to reopening Neil St. Blues June 24 in downtown Champaign, she owns Jackson Hewitt franchises in Champaign and Rantoul, and was busy helping people file their taxes by July 15, the new deadline.
"I'm burning both ends of the candle," Starks said.
But she's making it work, especially with the help of her family.
Her son Michael is the general manager of the restaurant and her daughter Brittany is in charge of desserts, Starks said.
"We have a host of other friends and relatives that chip in," Starks said. "It's been extremely challenging at times. I've certainly pushed myself to what I would call my limit, and it's definitely forced me to become more efficient."
The restaurant opened in November 2018 and quickly made a name for itself.
"We had more community response than we ever could've imagined," Starks said. "They were very supportive and very patient."
Starks said the restaurant grew out of a family discussion.
"It was a family initiative," she said. "I never woke up with the idea of wanting to open a restaurant. Several family members said that there's something missing in Champaign in regards to the food choices and some of the options we have."
She said downtown Champaign was missing a place where you "could eat and enjoy live entertainment."
"We identified that void, we decided that we wanted to explore this opportunity, and the location kind of dictated a lot of it," Starks said.
Neil St. Blues is using the space at 301 N. Neil St. where 301 Mongolia and Dublin O'Neil's used to be located.
"It had a full kitchen and lots of space for entertainment," Starks said.
The restaurant focuses on Southern cuisine, including jambalaya, catfish, chicken & waffles, and an alligator po' boy sandwich.
"That's definitely unique to the area," Michael Starks said. "We're Southern-based, cooking soul food, and when we were creating the menu, we thought that what's really good that not a lot of people have in Champaign is alligator."
"When the customer sees that, they have to try it out," Michael Starks said. "We're just trying to be diverse and unique."
The business was thrown for a loop this spring when the coronavirus hit, especially the live music scene.
"We're very fortunate just to get anything," Michael Starks said. "Everyone's pockets are hurting."
Neil St. Blues closed when the stay-at-home order went into effect and, until June 24, was only serving takeout.
When it reopened indoor seating, it put tables on the dance floor to help spread customers out.
"Dancing is not allowed at the moment," Gayle Starks said.
And she said pickup and especially delivery have been popular.
Still, she was glad to get open.
"The reopening has gone very well, considering that we don't have the entertainment," she said. "Our lunches are still very soft in terms of our volume; I think that's a direct correlation to people working from home. ... But dinners are pretty solid."
As Neil St. Blues was preparing to reopen, protests spread around the country following the police killing of George Floyd in Minnesota.
In Champaign-Urbana, the organization Buy Black Chambana organized a Black Restaurant Week the week of Juneteenth to support local Black-owned restaurants.
Starks said Neil St. Blues wanted to be a part of that promotion, but wasn't quite ready.
"We already had put together our startup timeline, which included an enormous amount of work. Systems had to be cleaned and maintained, we had training to do for staff particularly around COVID-19. We also had to reorder all of our food items," she said.
Neil St. Blues would've had to push up its reopening timeline by a week and didn't want to compromise on safety, Starks said.
She said her family has always had an entrepreneurial spirit: her grandmother Eular Mae Henderson was a landlord and one of the first Black women to be employed in town by the railroad; her mother Helen Marie Parker used to own a restaurant and an apartment building.
"My family has always been raised to try to be entrepreneurial in our spirit. That is important for our family and also our community and our African American community, to do our jobs well and be visible and to be successful," Starks said. "I've always wanted to be a positive example of what a business owner looks like."
"With the recent protests and attention to Black Lives Matter, it's not new to me," Starks said. "It has not changed one bit about how or why we do things. It's almost as if society has caught up with something we've always known and tried to demonstrate."
Starks said she hasn't experienced overt racism in running Neil St. Blues.
"We've gotten support from the city and from my friends and family of all races," she said. "We were able to open in one of the most prominent places in downtown Champaign."
She called her family "my secret weapon" and said they have also been bit by the entrepreneurial bug.
"I'm trying to pass that along to my children," she said. "They seem to be grasping the importance of it and are eager to launch their own businesses."
Michael Starks, 22, has already tried renting space on Airbnb and did some e-commerce.
"In each adventure, even if it wasn't profitable, I gained countless amounts of experience," he said. "Just being 22 years old, one day I'll be able to apply everything I learned and hopefully get something that clicks."
He said he's trying to learn as much as he can from being the general manager of Neil St. Blues.
"I'm focused on soaking up the experience. I want to go out and do my own thing and build my own business," he said. "This is my mother's business. She put forth the most amount of effort to get where we are now."