Zero waste -- the business case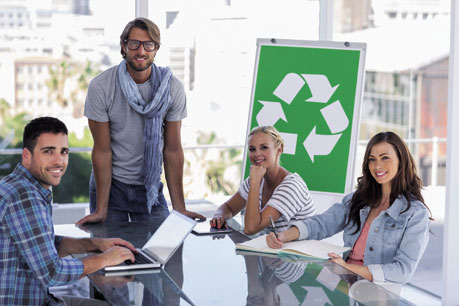 Photo by:
Zero waste is a term that is beginning to infiltrate the local economy, but can it be beneficial for your business? Zero waste is an approach to the way materials are handled through their entire life cycle. It refers to management and planning approaches that emphasize waste prevention, material reuse and diversion, as opposed to sending waste to the landfill. Zero waste is a goal or ideal, rather than a hard target. By utilizing zero waste strategies, businesses and facilities can save money, increase efficiency, reduce overall community environmental impact and even make money though the resale of waste. Zero waste programs are also a great way for employees to participate in helping their workplace be sustainable.
In 2014, a waste assessment was conducted at the city of Urbana by the Illinois Sustainable Technology Center. It discovered that the city could divert 45 percent more (already at a 35 percent diversion rate) of their materials by recycling office paper and other recyclable waste and composting organics. Suggestions such as signage, trainings printer settings and composting would help the city divert 80 percent of its waste rather than send it to the landfill. These strategies could reduce costs, increase public education and engage employees in workplace sustainability.
The first step to building a zero waste program or event is to conduct a waste assessment. Next, diversion strategies, such as reusing, repurposing, composting and recycling of materials are recommended and an implementation plan is put in place. Modifying purchasing habits, implementing a new technology or changing a process may help divert or eliminate waste as well. Monitoring and evaluating waste streams once new strategies have been implemented is important to ensure successful diversion. Visit ISTC (www.istc.illinois.edu/zerowaste) for more information on waste assessments, zero waste events and scheduling a site visit!
The Illinois Green Business Association is a nonprofit organization in Champaign that offers certification and green business services. You can contact the IGBA at www.illinoisGBA.org or call 217-531-2179.