Winner brings neighborhood feel to Circle K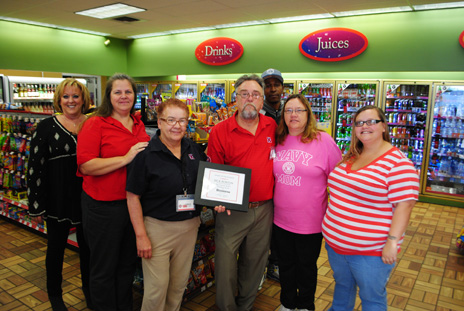 Photo by: Bridget Broihahn
CENTRAL ILLINOIS BUSINESS MAGAZINE'S Customer Service Excellence Award winner, Rick Borton, is seen here, from left to right, with Katrina Roberts, Eva Thrasher, Linda Capozzi, Borton, James Washington, Yvonne Jayne and Kristina Ebert.
URBANA-He served our country, now he serves customers and does it with pride.
Veteran Navy man, Rick Borton is our current winner of our Central Illinois Business Customer Service Excellence award. Borton works at the Circle K on the corner of Cunningham Ave. and Perkins Road in Urbana.
There are actually two Circle Ks very close to one another on Cunningham Ave. This Circle K is the second one going south into Urbana, located at 1605 N. Cunningham. A few regulars were on hand and gave Central Illinois Business the low-down on the distinction between the two. The consensus is that this particular Circle K is the "neighborhood-friendly one," and the other is considered the "corporate one with the Subway inside."
"He(Rick) has an infectious joy about him. He always makes me smile and that is a gift," Katrin Roberts said about her commute to Community Choices in Urbana.
Borton was nominated by Alli Nisley, manager of Pekara Bakery and Bistro, Champaign. Nisley said she makes an effort to go to that particular Circle K because of Borton and his excellent service.
"He's just a really nice guy. He makes everyone feel great. He makes my day," she said.
Our winner's manager, Linda Capozzi said that Borton is a great worker and the customers love him.
"I wish he worked full-time instead of part time here at our Circle K," she said of the CIB award winner.
Eva Thrasher is Circle K's district manager. She was there for the award presentation.
"I wouldn't miss it. He's so good with people. This is a neighborhood store. Everyone knows everyone," she said.
Capozzi said she can be busy in her office, and she will hear the happy voices and laughter from customers as they deal with Borton.
"He's good like that," she said.
Borton has always been a happy-spirited person, his sister, Yvonne Jayne of Urbana said. She was there to celebrate her brother's award and was joined by her daughter, Kristina Ebert, also of Urbana.
"I have rarely seen him in a bad mood," Jayne said.
"Congratulations, man," James Washington said to Borton.
Washington is a regular customer who enjoys seeing Borton whenever he's working.
Borton said he really likes treating people the way he wants to be treated.
"And when I am a customer I spend my money where they treat me well," he said.
Do you have someone who gives excellent service, makes you smile and goes that extra mile? Nominate them for Central Illinois Business Customer Service Excellence Award by contacting Bridget Broihahn at 217-351-5695 or bbroihahn@news-gazette.com.