Willard needs more than showgirls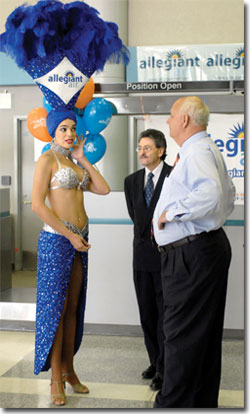 Photo by:
Commercial air service at Willard Airport is in a trough.
Service to Las Vegas recently opened at Willard, but the signs still point the airport in a poor direction. The number of passengers has steadily declined during the past two years, and airlines have left for more prosperous destinations. Well-performing competitors and new federal legislation create even more challenges for Willard.
A greater change than adding a leisure route to Las Vegas may be required to avoid dire turbulence in the air service at The University of Illinois' Willard Airport.
The number of passengers fell by 11.5 percent from 2005 to 2006. This year, the numbers are down another 15 percent through June and on-time arrivals have fallen below 60 percent, which compares poorly to competitors in the state.
"Fewer passengers spell smaller cash flows, making life hard for airport manager Stephen Wanzek. The airport offers few opportunities to increase the cash flow. In addition to federal grants, airport revenue comes from car parking, rentals and money spent in the snack bar. But the snack bar has been losing money every month," Wanzek said.
If passenger statistics are a dark cloud for Willard, new legislation from Washington is another. Funding for the Federal Aviation Administration runs out this month, and Congress is reviewing proposals for a change in the funding process. The commercial airline industry is tired of paying a disproportionate share of the cost of the system, according to the Air Transport Association, an interest group for the commercial airlines. Costs for upholding and modernizing an old system may be shifted to General Aviation, of which Willard has plenty. General Aviation includes any flight activity excluding scheduled commercial flights and military air traffic. The Institute of Aviation and Flightstar Corporation, the corporate carrier at Willard, are both considered General Aviation.
One-fourth of Willard's budget comes from federal money, and with a likely drought in these funds, improvements and needed repairs may have to be postponed. The proposed funding changes will create funding headaches and could threaten the existence of the airport.
"Willard has suffered operational losses of around $2 million every year since 2003. Bill Ferguson, associate director of finance at the airport," said the operational losses include depreciation of buildings and decreases in current assets and give a false version of reality.
The airport really only has losses of around $25,000 per year, according to Eugene Barton, associate vice chancellor and director of business enterprises at the University of Illinois.
"We are the only downstate airport that charges for parking, but we are also the only downstate airport that doesn't have a property tax supporting the airport," Wanzek said. Although the Central Regional Airport at Bloomington-Normal offers free parking to its customers, Wanzek said he sees few other options to bring in the money he needs to pay off the bonds and run the airport.
"Free parking would probably influence my decision to fly out of Willard, but the biggest thing is the pricing of the flights," said Kevin Lin of Urbana. Antoinette Pomata of Urbana picked Amtrak for her trip to St. Louis, when she found out round trip flight from Willard would cost approximately $600. With the exception of Willard's destination to Detroit, its prices cannot be characterized as competitive.
Direct service from Champaign to Las Vegas began Aug. 16. The route targets leisure travelers with departures on Thursdays, and returns early Sunday mornings. At the same time, Air Tran introduced a four times a week service from Bloomington-Normal to Las Vegas.
While the airport has struggled, the university said the number of potential fliers in the area supports a greater level of service than Willard offers. But Willard loses many passengers to airports like Indianapolis, Bloomington-Normal and Chicago O'Hare. The region around Willard contains 200 to 300 potential daily fliers to central Florida, Wanzek said.
"I think that is promising," he said. He is hopeful Allegiant Air will consider opening such a route.
But University of Illinois economics professor J. Fred Giertz doesn't think there are enough incentives to attract more airlines.
"Financial incentive is the only way of getting the service or airlines here, but the community or university can't afford to keep funding them," he said.
After a two-year agreement with Delta Airlines, which included revenue guarantees, Delta cashed out and walked away. It left a sour after-taste with the community and the university.
"I don't think Delta gave us a very fair shot," said Wanzek, adding that Delta should have been more aggressive in its early pricing and advertising of its route to Cincinnati. The University had to pay $1.4 million in the revenue guarantee, leaving it less than excited about similar ventures in the near future.
With few chances of another revenue guarantee sponsored by the University, leaders have discussed the option of a different ownership model. Whereas the University of Illinois owns the Willard airport, Bloomington-Normal has an ownership model where citizens pay taxes to support the airport. All taxpayers assume the financial burden, but they also reap the benefits from a vibrant airport.
The Champaign Economic Development Corporation, a non-profit business group, has discussed the option of an airport authority but has yet to produce any concrete proposal for such a change.
"I think the university would be willing to let that happen," Barton said.
The option of privatizing the airport is a possibility, but with the limited cash flow the airport produces, Wanzek has a hard time envisioning such a development.
A vibrant airport is a tremendous amenity for a community, said Champaign City Councilman Thomas Bruno, who is also a member of the Economic Development Corporation. A good airport is crucial for economic development.
"The local airport is very important in site selection," said Mike Hickey, president of Hickey and Associates of Minneapolis, Minn., a firm that helps its clients evaluate and chose sites for new operations.
According to a recent survey of Midwestern businesses, the access to a commercial service airport ranks fifth on a list of 15 different location factors for businesses. Highway access, trained labor and tax incentives occupy the top three spots on the list.
-Simon Chrisander is a graduate student in the journalism program at the University of Illinois. He can be reached at cchrisa2@uiuc.edu.