Weddings ring cash register bells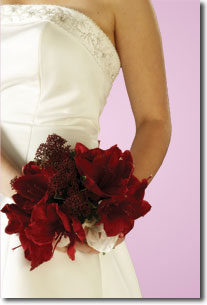 Photo by: n/a
Here comes the bride ... plus the photographer, florist, baker, disc jockey, jeweler and caterer ... walking dazedly down the aisle.
Any blushing bride can tell you it takes an army of merchants and an overflowing wallet to orchestrate a wedding.
Whether an intimate affair or gala event, weddings contribute a lot of money to local vendors and the area's economic prosperity.
Rick Orr, co-owner of downtown Champaign's bustling flower shop, Rick Orr Florists, creates arrangements for three to four weddings a weekend during June.
"It could be a simple boutonnière and bouquet for a wedding officiated by a justice of the peace or a lavish out-of-town wedding in Chicago or Indianapolis," Orr said.
With just four full-time employees and three part-time employees, Orr accommodates as many weddings as he can manage with his small shop.
His shop's marital creations develop during six months to a year of advance planning.
The few minute-long nuptials mean high sales for vendors, especially during the warmer months.
Wedding photographer David Ghent said his most profitable months occur from April to November.
"A lot of my sales are weather driven," Ghent said.
For most wedding-oriented businesses, phones start ringing off the hook as the thermometer's mercury begins to rise.
Becky Yergler is a wedding planner from Mahomet who serves brides- and grooms-to-be primarily during the months of June, July, August and September.
"I find outdoor weddings are really popular right now," Yergler said.
Some brides and grooms opt for non-denominational ceremonies that take them out of a traditional church setting and into the informal outdoors. This change of scenery makes weather a crucial component of their big day, Yergler said.
When brides envision walking down the aisle with the sunshine highlighting blue skies, their dreams often take place during the summer.
"I think June is a traditional month for individuals to get married. People fantasize about being married in the summer. It's a romantic time," Ghent said.
Ghent said he rarely has a weekend off during June. Some of these weekends may include three or more bookings.
"More and more people are getting married on Fridays and Saturdays than previously," Ghent said.
Yergler finds there's a systematic principal behind the influx of summer weddings.
"People get engaged over the holidays a lot and usually the time line is six to nine months for an engagement, so the wedding usually falls during the summer months," Yergler said.
With school out and travel plans in full swing, the brief summer window of downtime makes it convenient for guests to attend a ceremony.
"It's easier for people to travel in the summer," Yergler said.
Michelle Schweighart, owner of Michelle's Bridal Shoppe in Urbana, barely has time to talk on the phone during the summer months because of the influx of brides and grooms entering her shop.
"If you are having out of town guests, the summer is often the best time to have the wedding because people are taking vacations," Schweighart said.
Some couples marry at a young age and are still attending school, so the summer is a logical time for students to marry, Yergler said.
Because this is a university town, June represents a transition time between graduation and a career, making it a convenient time to wed, Orr said.
Orr sees some engaged students who went to college together at the University of Illinois return to get married in Champaign as a central meeting point between two different hometowns.
For 25 years, Schweighart has helped brides and grooms don the perfect formal wear for their big day.
"We see a lot of newly engaged brides in January," Schweighart said.
These engaged brides are looking for their dresses early in preparation for their wedding date in the summer.
From May to October, Schweighart and staff are busy with alterations and final fittings before the summer and early fall brides walk down the aisle.
Because of Illinois' climate, the summer months often provide the best weather for large events, Schweighart said.
General manager for Champaign's Complete Music DJ Service Brandon Gray is no stranger to weddings. During the service's peak months of September and October, Gray and his staff provide music for 40 to 70 weddings across the state.
"Locally we'll do 15 (weddings) a weekend. ... You really have to do a good job of budgeting yourself," Gray said.
Gray and his staff is consistently busy starting the weekend after Easter through New Year's Eve. On the off months, his staff is busy promoting and booking various events across central Illinois.
"More than any other industry, except for travel, the wedding industry is affected by weather and time of year," Gray said.
Emily Fletcher can be reached at 217-351-5244 or efletcher@news-gazette.com.