We specialize in sparkle!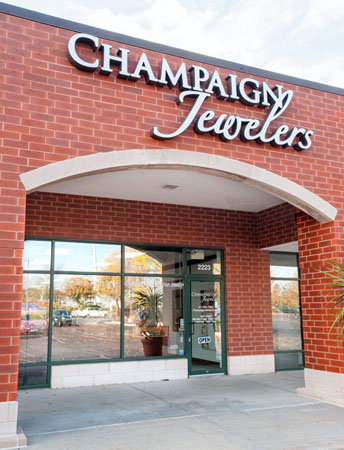 Photo by: Robin Scholz
The locally owned, fine jewelry store that is Champaign Jewelers is all about their customers and being a solid presence in the community. Owner Kari Johnson Smith and manager Andrea Laird give a level of customer service not met by other stores in the area. In fact, their admitted strong point is people.
"We're about customers and building relationships," Smith said from her store that has been in the Shoppes of Knollwood since 2013.
Smith and Laird have worked together for many years. They knew a smaller, locally owned business would thrive because of those relationships they had built working together.
They bring with them not only experience, but training and knowledge, as well. A graduate of the University of Illinois in economics, Smith also is a graduate gemologist from the Gemological Institute of America, or GIA. She has 14 years of experience in fine jewelry. Laird also has a graduate diamonds degree from GIA. She has been in the business since 2003, and excels at assisting customers with diamond jewelry.
The requirements of a graduate gemologist degree include diamond identification and grading, color gem identification and grading, and pearl grading. Smith and Laird take great pleasure in helping a customer to celebrate the special occasions that life has to offer, like an engagement or an anniversary. They are experts in finding that exact piece of jewelry that will enhance any event or occasion. They make a great team, and added to their team Unangst this past summer as a sales associate.
It doesn't stop there, though. They knew a strong foundation needed careful planning.
"I had a business plan," Smith said. "I worked with SCORE, the program offered by the Champaign Chamber of Commerce."
Mary Emmons, chair of ECI-SCORE, said that the chamber program is beneficial in helping people start their own business. ECI stands for East Central Illinois, and SCORE stands for Service Corps of Retired Executives.
"We like to help them see where they are and what they need in order to get them started as business owners," Emmons said. "We offer "Financing a small business" workshops and "Writing a business plan" workshops."
Smith put her business plan to work. First, however, they had to rehab their space in the Shoppes of Knollwood. Their families helping them along, they improved the space that would make even the best renovators in the carpentry business stand and take notice.
"We represent a full-service jewelry store," Smith said. "We also custom design pieces, and whether your budget is $1,000 to $10,000 we can work with you."
In fact, Champaign Jewelers has a reputation for custom designing jewelry, their good taste and a vast inventory in the store. They are also gemstone dealers, and have a goldsmith available to them when needed to craft the designs that have been created by Smith and Laird.
Ann Wilson of Monticello was in the store to consult with Laird on a piece of jewelry. When she walked in, the staff all knew her by name.
"Right now we are working on getting a ruby bracelet designed for me," Wilson said. "I love this business! They're more than just jewelers."
Smith said that a lot comes with a purchase form Champaign Jewelers.
"This includes the appraisal for insurance, sizing, polishing and soldering. We service it. We take care of our customers," Smith said.
"We write personal notes to our customers, thanking them for their business. We build those relationships with them," Laird said.
The store has unique promotions quite frequently. They recently had a "One day only estate sale," where a unique collection of jewelry-some owned by celebrities-was on display, along with designer and signed pieces.
Last January they had a promotion that if a customer bought a diamond of $3,000 or more, the customer received a free TV.
"The customers loved it! We worked with Good Vibes," Smith said.
The store will have extended hours in December for the holiday gift-giving season with Saturday hours of 10 a.m. to 5 p.m., and Sunday hours of 10 a.m. to 2 p.m.
"The thing that I love the best about them is that they give back and support the community," Wilson said.
If there is a charitable event in the CU area, then most likely, Champaign Jewelers supports it.
Champaign Jewelers is located at 2223 S. Neil St. For more information, call 217-693-7655 or visit their website at www.champaignjewelers.com.
CHARITABLE ORGANIZATIONS
SPONSORED BY CHAMPAIGN JEWELERS
Champaign County Humane Society - main sponsor for Fur Ball
Don Moyer Boys and Girls Club - Golf Classic sponsor
University of Illinois Foundation
United Way of Champaign County
Stephanie Wetzel Charity Golf Outing
Team Illinois for the US Transplant Games
The Adam Scott Youth Foundation
The Lupus Society of Illinois
March of Dimes
Big Brothers Big Sisters
Fundraiser for Clark-Lindsey
Champaign West Rotary