Want to get more out of your employees?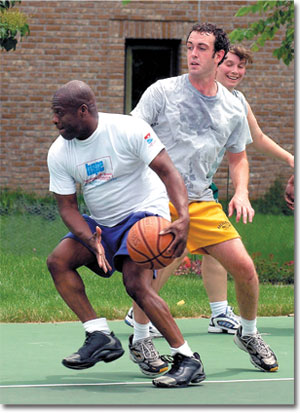 Photo by:
More and more employers are recognizing the value of offering their employees programs and opportunities to eat healthy and exercise.
And by value, I don't just mean healthier and happier employees. I mean increased productivity, less absenteeism, lower turnover, reduced health care costs and a three- to five-fold return on each dollar invested.
Local employers have started to offer reduced rates on gym memberships, on-site gyms, weight-loss and fitness competitions and healthy choices in employee cafeterias.
Human Kinetics, a publishing company that employees 305 people at its Champaign facility, allows employees to work a flexible schedule to make time to exercise in its on-site fitness center.
"It gets heavily used throughout the day," CEO Brian Holding said. "People will be in there at 5 a.m. and 5 in the afternoon."
The company also sponsors several teams and leagues, including softball, basketball and volleyball, and fitness classes like kickboxing, yoga and tai chi. Employees pay half-price for these classes. Several employees take advantage of personal training programs and in some units, employees work out together. A basketball court/tennis court is right outside the building for employees to use.
Human Kinetics' employee cafeteria offers a salad bar and uses low-fat cooking methods. Meals are subsidized, and employees can purchase lunch for about $2.50, said Ann Maloney, the human resources director.
Holding said the company tries to attract and retain high-quality employees with its focus on employee health and wellness.
"People are appreciative," he said. "They're healthier so they're more productive. Exercise is a great way to manage stress, so it's a great way to cope with that."
Maloney said, "The hope is, over time, health insurance premiums will be reduced because there would be fewer injuries and illnesses."
A U.S. Department of Health and Human Services study suggests fitness programs have reduced employer health care costs by 20 to 55 percent, according to the American Heart Association.
Human Kinetics also offers a Weight Watchers at Work program, a separate Healthy Eating Every Day program and an Active Living Every Day program. The latter two programs were developed based on research done at the Cooper Research Institute, and they are used by various corporations.
The company also runs a contest each year in which employees who commit to exercising a certain amount of time each month are entered into a drawing for a trip or a prize. One prize was a trip to New York City.
Provena Health system also offers an eight-week healthy lifestyle competition for employees and their spouses called the Bottom Line Challenge. This year was the fourth year of the program, and more than 2,000 employees and their spouses participated by losing pounds, inches and body fat, reducing blood pressure, logging exercise time and completing wellness education.
Participants lost 4,997 pounds of weight, 4,502 overall inches and logged a total of 32,726 hours of exercise. The average blood pressure went from 123.3/75.3 to 119.6/72.6. Since the program started, 2,600 employees and their spouses have lost a collective total of 11.5 tons of weight during the challenges.
At the start of the program, participants have their weight, measurements, blood pressure and body fat recorded. After eight weeks, body assessments are taken again.
Prizes change each year. One year, the prize was tickets to a Chicago White Sox game. Another year, the first place winner received a trip to Cancun and the second place winner received a trip to Florida. Now, cash is offered to the winners. The top prize is $500 for each member of the winning team and $500 for the top individual competitor in each age group. Competitors are broken up into gender and age groups.
The goal of the program is to create behavior change in employees, said Jason Whetsel, system manager of wellness for Provena.
"A wellness program typically has between a two and five times return on the investment," he said. This is direct savings based on medical claims, he said. A case study of 14 wellness programs found they all reduced employee absenteeism, he said.
Provena also offers employees discounted fitness rates at local gyms and allows them to use Provena's fitness center for $5 a pay period.
"We give them information to promote long-term health, and we use this as a springboard to start that," Whetsel said.
Provena also offers monthly education programs and an annual health fair.
Whetsel suggests that other employers conduct clinical screenings on their employees to determine what type of wellness program to offer.
"Allow your data to provide a blue print for what you need to provide," he said.
He stressed that as a health care organization, Provena strives to lead by example.
"What we're trying to do as a health care system is give our employees the resources to improve their health," Whetsel said.
Wolfram Research in Champaign, which produces a software called Mathematica, has about 350 employees. It offers a local gym membership to employees for just $8 a month, which about 30 to 35 percent of the employees take advantage of, said Staci Wahls, the human resources manager.
Employees' families can also receive a discounted rate, although not as inexpensive as the employee rate.
"We want to instill a healthy lifestyle in them, and we want to be able to instill that in their families as well," she said.
Wolfram Research also hosts a health fair for employees, and about 96 percent of them attend it. It has also offered employee programs on healthy cooking and good nutrition, Wahls said.
At Gill Athletics in Champaign, employees can use the weight room for free, which many do during lunch.
"We probably have 10 or 15 of our 60 employees use the weight room daily," said Mike Willard, a technical sales representative at the company.
Employees also receive reduced rates on home gym equipment.
—Greta Hale is editor of Central Illinois Business Magazine. She can be reached at 217-351-5695 or ghale@news-gazette.com.
Trying to start your own employee wellness program? Contact the American Heart Association
For employers who want to offer a wellness program but don't have a lot of resources, the American Heart Association has the perfect solution.
The American Heart Association offers the Start! Fit-Friendly Companies Program to help companies promote employee health and wellness. The program is a complete wellness program that focuses on walking as exercise since it's the easiest form of exercise and statistics indicate that it has the lowest dropout rate of any exercise, said Amanda Beckler, the corporate events director for the Midwest affiliate of the American Heart Association.
"It can be as little as a walking program or as much as a complete wellness program," Beckler said. Beckler serves Champaign, Vermillion and Coles counties.
The goal of the program is to help employees reduce their risk of heart disease and stroke and lead longer, stronger, healthier lives, according to the American Heart Association.
"The underlying mission for the Heart Association (since 2000) is to reduce death and disease by 25 percent by 2010," Beckler said.
The program includes an online fitness and nutrition tracker.
Each company's CEO must sign a pledge to participate. The American Heart Association then offers support to each participating company in the form of resources, materials, newsletter templates and consultation. Christie Clinic in Champaign is participating in the program, Beckler said.
Companies may earn recognition by implementing physical activity practices such as:
Providing walking routes.
Promoting walking programs, online newsletters and tracking tools to motivate employees.
Allowing staff to wear athletic shoes in the workplace on designated "sneaker days."
Individuals can also take advantage of the program by:
Signing up for MyStart! Online to receive access to an exercise and nutrition tracker, monthly newsletters, American Heart Association recipes and more.
Participate in the in the Champaign County Heart Walk on Oct. 13 at Crystal Lake Park.
To read more about the program, go to www.americanheart.org/start and click on the learn more link.
To sign up for the program, contact Beckler at 217-355-5119 or Amanda.Beckler@heart.org.