VOLITION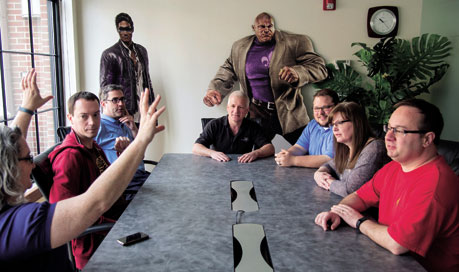 Photo by: Heather Coit
COMPANY BIO
Champaign business, Deep Silver Volition LLC, started downtown when Mike Kulas and Matt Toschlog created Parallax in 1993. Toschlog moved to Ann Arbor, Mich., in 1996, splitting Parallax into Volition and Outrage Entertainment. Located at One Main Plaza, Volition is a subsidiary of Koch Media Group, an independent producer and marketer of digital entertainment products in Europe and North America.
In 2003, Dan Cermak came aboard as vice president of product development. Cermak has an interesting background. He started his working career as a medical technician in California. While most people would come home and plop in front of the television, Cermak would come home and play with his Atari system. His goal was to figure out how he could load a board game that he created, Colonial Conquest, onto its drive. He searched for books that had the codes that he could load into the Atari, and after many months of trial and error, he found the right set codes to get the game to come up on the screen. He was most successful with this little project, too.
"It was published on the C64, Atari 800 and Apple II. I produced games after that," he said.
Fortunately for Volition, when Kulas stepped down in 2011, Cermak stepped up as general manager and has never looked back. Profits abound for this gaming company that has created such products as the Saint's Row series, and The Punisher, although it hasn't been stress-free for the downtown company.
OWNERSHIP CHANGE
"Our parent company went bankrupt," Cermak said of the Chapter 11 filing of THQ.
THQ did its best to get six interested buyers to bid high for its subsidiaries, eventually getting $22.3 million for Volition from Koch Media Group.
"While all of this was going on, Saint's Row III was doing well, and we shipped out Saint's Row IV in the meantime," Cermak said. "We didn't lose one staff person during the acquisition."
OPEN WORKING ENVIRONMENT
"We give our employees an environment that they can create in: support, payback and room. They have a lot of latitude, and can work a varied schedule," Cermak said.
The group also plays board games to open creative channels. They support The Champaign-Urbana Design Organization (CUDO), a group that brings together designers and gamers to create board games.
"Yes, my philosophy on board games is that a game needs to have simple rules, have unlimited choices, and multiple players involved," he said. "It's all about people and interaction with others."