True service philosophy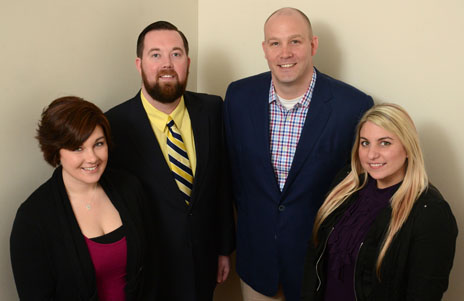 Photo by: McGowan Photography
Grant Scofield always wants what's best for the client. He's good with people and wants to make lives better. He has always been a service-oriented person, even back in his Homer/St. Joseph and Southern Illinois University days, where he graduated with a degree in finance.
He's been with State Farm a little under six years, and has been an agent-with an Urbana office- for almost three years. And he really likes it. He's all about what is best for his clients, even if they tell him, "no."
"Getting told "no" happens for us like nine times out of ten," he said from his busy office. "We're just hopeful that the "no" doesn't come back to be a bad thing for the client."
Scofield has seen this in the insurance industry, too. A client doesn't get covered and then the unthinkable happens: a car accident, a flood or a fire. Or even the most horrific: death.
"We try our best to get people in; moreover, to get them covered and for them to feel secure," he said. "We treat people warmly and help any way we can"
He and his staff: Kember Galloway, Kristina Bryson, and Jeremy Vaughn are all fully licensed. Scofield said it's more than that, though. It's treating people with the utmost respect and kindness, to be advisers and to be helpful.
"We go above and beyond. We've helped people get tow trucks, we've helped new students find a good restaurant, or somebody a good dry-cleaner. We help anyway we can," he said.
He wants his clients to call him with questions. He wants them to know that he and his staff have their best interest in mind.
"We go there. I mean, as far as insurance is concerned, liability is so very important. We walk people through the changes of life and we want them to be protected," Scofield said.
He picked up a paper coffee cup off of his desk. It was like any one would see from the local coffee shop.
"How many days do people buy this," he asked while holding up the cup. "And for the daily price of this coffee, a client can have life insurance and peace of mind."
He said he never forgets this one thing: "We work for our clients," he said.
Scofield in his private time likes to sponsor the St. Joseph-Ogden Spartans in sports and other activities. He's also a Spartan booster.
To find out more information from the team at Grant Scofield State Farm, call them at 217-384-5727, email Scofield at: grant.scofield.k2rr@statefarm.com, or go to their website: grantscofield.com.