Triptych Brewing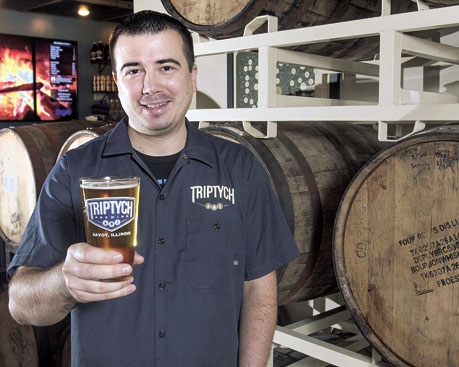 Photo by: Rick Danzl
COMPANY BIO
Triptych Brewing began brewing in December 2012 and opened for business at 1703 Woodfield Drive, Savoy, in February 2013.
Since then, the company has made about 75 different beers, with 150 batches brewed to date, according to majority partner Anthony Benjamin.
The brewery's "Dirty Hippy" variety won the silver medal in the English brown ale category of the 2014 World Beer Cup.
About 80 percent of Triptych's product is sold in its tap room -- most of it in growlers and cans "to go."
Triptych's products are also available at local businesses, including Big Grove Tavern, Billy Barooz, Black Dog, Canopy Club, Crane Alley, Dublin O'Neil's, Farren's, Jupiter's, Radio Maria, Seven Saints, Wedge at the Crossing and J.T. Walker's in Mahomet.
Triptych is the only licensed microbrewery in the county, Benjamin said.
OWNERSHIP CHANGE
The company was founded by Benjamin, Joshi Fullop and Jason Bartell. Last year, Fullop and Bartell sold their stakes in the business, Benjamin became majority owner, and Lyle Amacher and Greg Altstetter became his new partners. The business has four employees.
SERVING CHANGE
Triptych initially sold its beer in 32-ounce glass growlers. But people often didn't bring those back, so Triptych started offering the beer in 32-ounce aluminum cans known as "crowlers." Glass is easily recyclable, but aluminum cans "go back into the waste stream much more readily," Benjamin said.
Plus, the cans Triptych uses are made of 40 percent recycled aluminium.
The microbrewery offers 32-ounce stainless steel growlers to "Frequent Filler Club" members, who get discounts on fills.
PRODUCTS
The variety of beers available in the tap room changes regularly. Recent selections included a cream ale, honey-spice beer, Belgian fruit beer, hoppy ale, English brown ale, Belgian ale, barrel-aged stout, American barley wine and Flanders Red.
Some beers are brewed seasonally. For Valentine's Day, Triptych is brewing a chocolate cherry stout.
Brewing takes place three times a week, almost always on Mondays and on two other days depending on various factors.