Title search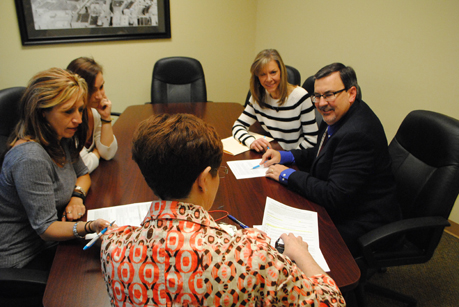 Photo by: Bridget Broihahn
The home buyer made an offer and the seller accepted it! How exciting for all involved. This is exactly where the title company comes in and does its work. The title company does an immense amount of investigation to declare the property "in title." And then some title companies take it the next step further and makes sure all of that money gets to change hands at the real estate closing.
Terry Prillaman at First Community Title Services, Inc. said that they insure the buyer that defects and other matters that will affect the title are in good order. They refer to it as "in title." Prillaman is the executive vice-president; chief operating officer and general counsel at FCTS, located at 1101 W. Windsor Road, Suite B, in Champaign.
"We also guarantee the lenders that what they're investing in is solvent," he said. "A lot of people think we just press a button and all of the information is at our fingertips."
Not so. It's a fastidious search of public records and it can be daunting, to say the very least.
"We go back in time. We search deeds, mortgages, easements, CCRs (covenants, conditions and restrictions), and much more, so we can have a good chain "in title," " he said. "We also want to make sure the property has access; that it abuts a platted road or an easement."
The next step is to prepare a commitment and to issue a title insurance policy.
"Remember, this is a monetary transaction and mortgage lenders want to be protected," he said.
Indeed, it's always about the money. Always.
First Community Title Services then plays an essential role in the real estate closing, whether it be commercial or residential. To contact Prillaman and the team at FCTS, call: 217-351-9940 or go to: fctitles.com/champaign.htm