The science of a calm space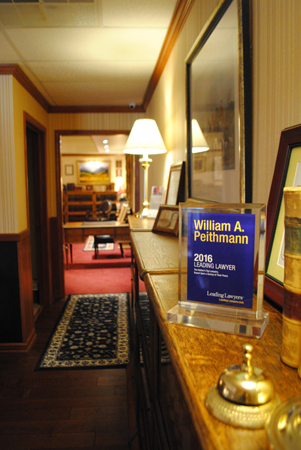 Photo by: Bridget Broihahn
Bill and Lisa Peithmann know something that psychologists have only recently realized: That a calming physical environment is of utmost importance when dealing with people. It makes for good business, too.
The Peithmann Law Office is located at 409 E. Main St. in Mahomet. The Peithmanns -- and the law office itself -- have had quite a journey from here to there. Bill Peithmann will tell anyone that it's an interesting journey, too.
The Peithmann Law Office was founded in Farmer City in 1948 by Ortheldo A. Peithmann and his CPA wife, Winona C. Peithmann, Bill's parents. The Farmer City office was a general practice law firm with a concentration in municipal law, farm estate planning and tax matters. Bill joined the firm in 1985 after working as an international corporate counselor in California.
Then Bill Peithmann moved the practice from Farmer City to Mahomet.
"Dad died, and I had to organize the business to reflect the way I practice law," Peithmann said.
It was a big responsibility.
"I had to tone it down. It was the only way to do things, and to do them right," he said.
Not only was he dealing with his father's death, but creating a whole new business concept that took a major toll on Peithmann.
It led to open heart surgery. Lisa Peithmann was with him through the whole ordeal, even though at the time they were not technically together. She is a paralegal, and they met each other during legal transactions much prior to this.
Because of the journey they have both been through in their respective lives, Bill and Lisa Peithmann have developed a way of putting clients at ease, which is of utmost importance to them. They believe that to gain the trust of their clients -- which is ultimately so crucial -- a comfortable and calming office space is essential. They have it down to a science, too.
The Mahomet office has been renovated to reflect comfort and style and to put clients at ease. The couple developed the entire plan, which uses elements, colors, art and decor that tell their story.
Lisa and Bill Peithmann used tones and shades of red, navy and gold on a palette of sandcolored paint. The coffered ceiling is very striking, with bands of color highlighting the dimensions. A beautiful light fixture sets off the entire ceiling. There are wall groupings, along with what Bill Peithmann calls his "brag wall" -- certificates and awards the law office has achieved over the years. Books and decor are strategically placed in symmetrical fashion. The design looks effortless, but is actually well thought out in every way.
"People will sit and not be aware of why they are calm in this office," Lisa Peithmann said.
She said that symmetry helps people be calm, and gives them a sense of security. This is a good thing, considering the office practices tax law and estate planning. The Peithmanns know that trust and devotion to the client is the cornerstone of their practice.
The Peithmann Law office can be contacted at 217-586-6102, its website (peithmannlaw.com) or email at bpeithmann@peithmann-law.com.