THE ETHANOL BOOM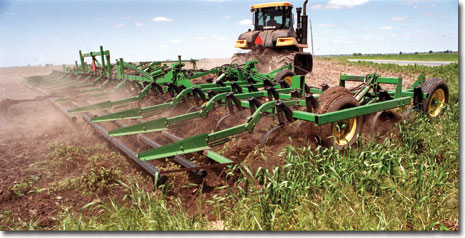 Photo by: Robin Scholz
Corn prices have doubled since last year from about $2 to $4 a bushel, and many central Illinois farmers are planting more corn in their fields than soybeans.
Farmers haven't seen prices like this for about a decade. During spring 1996, a small corn harvest pushed prices up to $5 a bushel, and a drought in 1974 created high prices. But this year, demand for ethanol is pushing up the prices.
"That's what sets this year apart is that it's driven more by demand than by a short crop," said Darrel Good, a professor of agricultural economics at the University of Illinois Urbana-Champaign who researches agricultural commodities.
Farmers in central Illinois are planting about 10 percent more corn this year than last year, said Larry Wood, the general manager of the Andersons grain elevator in Champaign.
Some farmers are planting 75 percent corn and 25 percent soybeans, while others are maintaining a 50/50 split.
"We're hearing from the seed companies that they're selling a lot more corn seeds than soybean seeds," Wood said.
Good said that while other factors have impacted the strong demand for corn, the majority of the price increase is related to ethanol.
The 2006 corn harvest nationwide was a little smaller than anticipated, and there has been a strong export demand for corn over the past 12 to 14 months, Good said. Mexico's expanding livestock industry has provided more demand for American corn. The small corn harvest in South America about a year ago and low worldwide wheat production in 2006 also increased demand for American corn, Good said.
"That strong export demand will soften somewhat because we're looking at a record large corn harvest in South America that will be occurring over the next few months," Good said.
Despite the myriad of other factors that affect supply and demand, Good said about 80 percent of the the demand for corn is caused by ethanol.
"There's no increase projected for any other use," he said. "So all the growth in demand is coming from ethanol, and it's huge."
The U.S. Congress jump-started ethanol production by mandating an output of 4.7 billion gallons of renewable fuels in 2007 and 7.5 billion gallons of renewable fuels in 2012. Healthy subsidies for ethanol producers have also helped. Production reached nearly 5 billion gallons in 2006, according to the Renewable Fuels Association.
"There's been so much interest in ethanol that production now exceeds the mandates," Good said.
Ethanol is made with fermented corn that is distilled to produce pure grain alcohol, similar to moonshine. Any car will run on gasoline mixed with small amounts of ethanol, but cars must be specially made to run on more than 10 percent ethanol.
"Companies that blend ethanol with regular gasoline receive an income tax credit of 51 cents per gallon," Good said. Just a few months ago, U.S. lawmakers extended a 54-cent-a-gallon tariff on imported ethanol that will last until January 2009. These subsidies mixed with the import tariffs have encouraged building of more ethanol plants.
The USDA estimates that the demand for corn this year requires that 87 million acres of corn be planted nation-wide. Only 79 million acres of corn were planted in the U.S. last year.
Wood said, "The concern is that we need to grow more acres of corn and that there won't be enough corn to meet the demand for the coming year."
Since the 1970s, there has always been a surplus of corn in the United States, except for in rare cases of a bad crop yields caused by a drought or pests.
"For probably the first time in a long time, we've got demand that's outstripped supply," Wood said.
The demand for corn is pushing up the price of soybeans: a sort of battle between the two commodities for acres, Wood said. While production of soybeans will decrease, Good said there is already a large surplus of soybeans.
"South America is currently harvesting the biggest soybean crop they've ever harvested," he said.
Some farmers worry that this increase in corn production is going to create a surplus that could cause a dramatic drop in corn prices. One central Illinois farmer wrote on an AgWeb.com blog, "One has to sit around and wonder what could happen under the present conditions. If everyone goes out and increases corn acreage and we have a surplus of corn next fall and nowhere to get rid of it, then where will prices be in the next year or two?"
Wood and Good both said a surplus of corn this fall is unlikely.
"There's always that slight risk that the market could drop, but I just don't think the bottom will drop out of it," Wood said, explaining that corn is used for food, livestock feed, ethanol and multiple other industrial uses. It's even used to make biodegradable forks, plates and spoons, he said.
"The demand is going to continue to grow," Wood said. "The next year, we'll probably need another 4 to 5 million acres."
Good said, "At this juncture, it's hard to imagine that we could produce too much corn in '07."
Corn used for ethanol
"From September 2005 to August 2006, 1.6 billion bushels of corn in the United States was used for ethanol production," Good said. Experts predict that 2.15 billion bushes will be used from September 2006 to August 2007, and that number is expected to increase to 4.4 billion by August 2009.
There are 114 ethanol plants in operation, seven that are expanding production capacity, Good said. The Renewable Fuels Association reports that current production capacity for these plants is about 5.48 billion gallons a year. There are 78 ethanol plants under construction in the United States, according to BusinessWeek.com.
"When all that construction is done, it would add another 6.3 billion gallons of capacity," Good said.
The Andersons is still determining whether it will build an ethanol plant at its Champaign facility. It takes about 15 months to construct a plant from start to finish, Wood said.
Construction is expected to begin this year on two ethanol plants east of Danville and one near Royal in Champaign County. Other plants are seeking Illinois Environmental Protection Agency approval for plants near Champaign at Gilman, Roberts, Gibson City, Tuscola and Charleston.
Effect on meat and food prices
Livestock producers are worried that this increase in corn prices will dramatically increase their feed costs and reduce their profits. The the National Cattlemen's Beef Association released a statement saying that "rapidly increasing prices for corn and other feed grains have raised operating costs for cattle feeders over the past four months, which in turn has contributed to lower calf and feeder cattle prices," according to Agweb.com.
The cattlemen called for transition to a market-based approach to renewable energy production.
Good said that if there is a big enough corn harvest in 2007, it will have a small effect on livestock producers.
High demand for corn for ethanol could also increase the prices of chicken feed, and therefore, poultry.
"[Chicken farmers] generally operate on pretty small profit margins and now with corn going up, we're already starting to see some cutback in poultry production because of the high feed costs," Good said.
Few small chicken farms still exist, but an increase in feed prices could be enough to push those farmers to sell their farms, Good said.
Prices for other foods that contain corn could also increase, since corn is used in corn chips, corn flakes, beer, whiskey and hundreds of processed foods.
U.S reliance on foreign oil
While all this ethanol production may be great news for farmers, Wood said it won't dramatically reduce the United State's reliance on foreign oil. While ethanol is a little cheaper than gasoline, it doesn't get as good of gas mileage.
All three of the major American automakers are producing flex-fuel cars that can run on gasoline or E85, a mix of 85 percent ethanol and 15 percent gasoline. Because of government incentives, these auto makers have committed to making half of all the cars they produce flex-fuel cars by 2012, according to the Associated Press.
"The hope out there is to change everything to E85, but I can tell you there's not enough corn out there to produce enough ethanol," Wood said.
In fact, even if all of the corn the United States produced was used for ethanol and none of it was used for feed or food, it would only produce 10 to 15 percent of the amount needed to supply a nation of E85 cars that were running on 85 percent ethanol and 15 percent gasoline, Wood said.
In 2006, 12 percent of the U.S. corn harvest was used to produce ethanol, which replaced only 2.8 percent of the nation's gas consumption, according to the Associated Press.
E85 cars also require a massive investment in new filling tanks at gas stations, Good said.
Good described the debate as, "How independent can we become, and what price do we want to pay for that independence? Everyone has an opinion."
Studies have examined the net energy efficiency of ethanol since it requires oil to fuel the tractors to produce the corn. Analysts say it takes the energy equivalent of three gallons of ethanol to make four gallons of it, according to the Associated Press.
Good said most studies suggest that the overall energy efficiency is positive because the corn uses the sun's energy to grow. The process takes natural gas and sunlight and produces crude oil, something the United States doesn't have enough of, Good said.
Greta Hale is editor of Central Illinois Business Magazine and can be reached at 217-351-5695 or ghale@news-gazette.com.