Success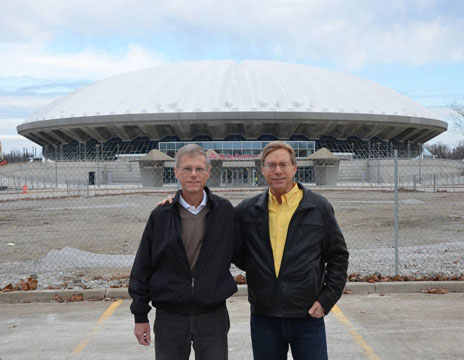 Photo by: Bill Walter
Brothers Jon and Scott Reichard are successful business owners here in Central Illinois. Older than his brother by eleven months, Scott is involved in a list of ventures that is as long as his business arm, but local readers will recognize him from Shatterglass Films, where he is owner and executive producer, Benefit Planning Consultants, as founder and chairman, and the family business his grandfather, David Reichard, Sr., and father, David Reichard, Jr. started as Reichard Heating & Plumbing many years ago. Today, Scott, owner and board member, and Jon, owner and president, run that same evolved business that locals know as A & R Mechanical Contractors, Inc. Jon said his list of business and community involvements is also very long. He is reticent to mention them. He's one of those hard-working and grounded types that would rather not be the limelight. It can be difficult to stay out of that limelight, however, when these two give so much and take great care of so many.
Entrepreneurs that are climbing that proverbial ladder of success may well wonder how they did it, what did it take to get where they are now, and what advice do they give Central Illinois Business readers. They have a lot of great tips and advice, however, through all of it, one theme keeps revealing itself again and again, "Our parents taught us the ethics of hard work and by example, how to be generous and give back," Jon said. "In my case, it is typically faith-based organizations."
Jon said that his best advice to up and coming entrepreneurs is to remember those that helped you along the way.
"And pass it on. You won't regret it," he said.
Scott agreed. He said they grew-up with hard-working parents that are his true heroes.
"They seemed to give at every turn. Picking up meals, feeding college students on Sundays, and putting hundred dollar bills in people's hands all the time. I noticed they also focused mainly on the widows, orphans and the poor as Jesus commanded. Jon and I are trying to do the same," Scott said. "They did not just talk it, they lived it and provided an incredible example for us. They were big givers of not only their time, but of their resources. Many people in this town have told me-unsolicited- that our mom was the closest thing to a saint that they have ever met. My dad was her coach, biggest cheerleader and provider. She was one amazing woman. She was our inspiration and example. We have not lived up to her level, but we are trying as best we can!"
One of Scott's philanthropic foundations is entitled, "Melba & Friends," after their mother, Melba Reichard. The foundation is a private and charitable support ministry.
Sam Banks, CEO of The Don Moyers Boys and Girls Club of Champaign said that Jon and Scott are pretty wonderful. Banks said that A & R Mechanical and other contractors that worked on the renovation of The State Farm Center together gave the organization a nice gift.
"A & R Mechanical was the lead contractors. With their encouragement, The Pay It Forward campaign raised $40,000 for the club," Banks said. "The monies will be put to very good use."
The Brothers Reichard said that the Pay It Forward campaign was a joy to work with, benefiting a wonderful organization.
"Sam and his team do a great job in our community," Jon said. "It was a pleasure for us to engage the other contractors and suppliers at State Farm Center and be a part of the campaign."
Scott said for growing entrepreneurs, it's important to find a passion, assess your strengths and weaknesses, work hard, don't be greedy and in a hurry, maintain honesty and integrity, view all people the same, make friends with everyone you meet-you never know what a friendship will mean down the road, surround yourself with the best team possible and locate local mentors you admire and learn from them.
"Don't think or act like you know everything, because you don't. Honor God and give Him the credit for everything, as all things ultimately come from Him," Scott said.