Student Research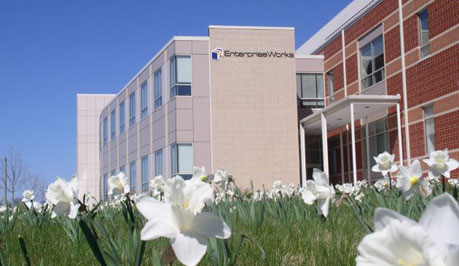 Photo by: University of Illinois Research Park
It was as if there was electricity in the air.
The environment was energized at EnterpriseWorks, as engineering students briskly displayed their various projects at the University of Illinois Research Park in Champaign. Young adults posted their banners in a semicircle; others smoothed them to make sure they were ready for display. Many stood back to get a better view on how their work looked from across the room.
Dena McDonagh, designer entrepreneur-in-residence at the UI Research Park, stood in the background, a big smile on her face.
"These are the industrial design student projects for the senior show," she said, eyes shining. "The show will be this weekend."
The UI Research Park opened its first building in January 2001. The idea behind the park is that startup companies can flourish by acquiring the resources they need, forming new jobs and industries. More established companies reside in the park; they work with the university, fostering an educated workforce and student development.
Laura Bleill is the assistant director for external relations, Research Park, the University of Illinois.
EnterpriseWorks is the park's award-winning incubator, accumulating many accolades from magazines like Forbes and Inc. Magazine, and titles of Outstanding Research Park of the Year from the Association of University Research Parks. It focuses on science and research-based startups, plus commercializing technology, according to research park reports.
"The park was created to be a startup, which is referred to as an incubator, in the university-research relationship that has evolved over time as more companies come in to the park, and more students get involved," Bleill said.
According to 2014 research park statistics, out of 1,574 employees, 474 were student interns. Student employment examples are: software development, technology research, mobile app development, business intelligence and modeling and simulation.
"Essentially our research park -- we're one of the only few of our peers -- has over 500 students working here." Bleill said of the numbers that are already up over last year.
"Some companies, like Caterpillar, work with students one-on-one, which are comprised mostly with engineering students," she said. "While, in contrast, Abbott has one person who manages the students."
The majority of the students are engineering majors, but the park is attracting more computer, math and analytics type majors.
"We've had many more students over last year join the program," Bleill said.
The EnterpriseWorks program does not advertise or drum up student participation, but it does facilitate opportunities for companies to be successful with students.
"We get the information on campus," she said. "EnterpriseWorks is the actual incubator. We help facilitate opportunities and connections."
Every other month, site directors meet to discuss what is and is not working in their programs. Bleill said that students have fresh eyes and can look at things in an unbiased manner.
"They are not so attached to a project that they cannot see the things that could be wrong, like an employee who is invested in the project can potentially be at times," she said.