Steve Hillard is president and chief executive officer of HL Precision Manufacturing Inc.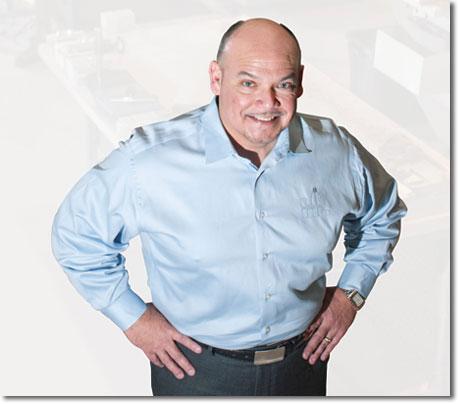 Photo by: Heather Coit
[CIB] What was your first paying job?
[Steve Hillard] Raising, showing (4-H and FFA) and selling purebred Hampshire pigs, beginning at age 9.
[CIB] What is the biggest challenge for you in your job on a daily basis?
[SH] Leading in ways that are consistent with the kind of culture that makes an enjoyable workplace, while achieving customer satisfaction and producing a profit.
[CIB] What is the most satisfying part of your job?
[SH] Seeing our company fulfill our customers' needs well.
[CIB] What is the best advice you've received?
[SH] "Life is a roller coaster -- persevere in the lows and be sure to enjoy the highs."
[CIB] What is the best advice you can offer other entrepreneurs or business leaders?
[SH] Be tenacious in building the right culture in your company. With the right culture, average resources can do great things, but the reverse is rarely true. And never become arrogant. Contrary to popular belief, most leaders (and often their companies) fail due to arrogance, not greed.
[CIB] Who was/is your mentor and what did that person teach you?
[SH] I've been fortunate to have three different people who effectively mentored me during my career. The three primary things they taught me were how to treat your employees (that mentor demonstrated the opposite behavior I endeavor to demonstrate), the value of written communication in salesmanship, and developing and adhering to a vision for the enterprise.
[CIB] What accomplishment are you most proud of?
[SH] I am most blessed by a great family, as well as being a part of the development of Pinnacle Forum, and with the opportunity to lead a great company which continues to grow despite strong headwinds in the business climate of Illinois and global manufacturing competition.
[CIB] What do you like about Champaign-Urbana?
[SH] There is an outsized group of business leaders who truly live out their faith in their businesses, the community and their families, as well as a vibrant technology base, which if fostered will continue to make C-U one of the winning communities.
[CIB] What are your hobbies?
[SH] Weight training and sporting clay shooting.