Sonistic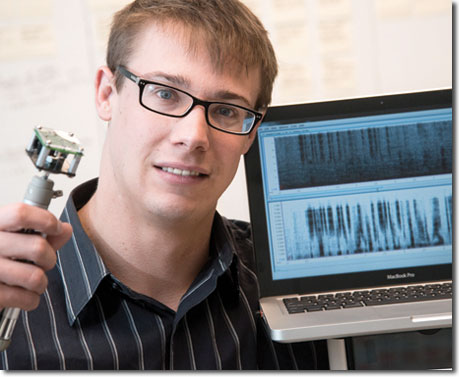 Photo by: John Dixon
You're working in a cafe and need to take an important phone call. But your business associate on the other end of the line can't hear you because of the noise from the espresso machine and the conversations of other patrons in the cafe.
Aaron Jones is working on technology to solve the problem.
Jones is president of Sonistic, a company in the University of Illinois Research Park that develops technology, both hardware and software, to improve audio in consumer devices.
"It's relevant to so many devices we all use on an everyday basis," Jones said. "We've all gotten phone calls where we can't even talk to the person because there is so much background noise."
Jones said the technology is useful with a conversation between two people over a cellphone or Skype, and also with voice-recognition software, which he said tends to fail if there is background noise.
The technology uses a microphone array with multiple microphones to help distinguish where a sound is coming from, capture sound coming from the direction of the speaker and filter out extraneous noise.
It grew out of the work of Douglas Jones, a UI professor of electrical and computer engineering whose research involves digital signal processing, and who is also Aaron Jones' father. The two founded Sonistic in 2011.
It's not just the microphone array, though, but the software that processes the signals that is the key to the technology.
"The power is really in the software," Jones said. "It's taking four messy signals and processing those signals. That's really where the core technology lies."
The company received federal research grants that enabled it to develop a prototype. Jones demonstrates it to potential partners or investors with a Skype call at Cafe Kopi. Jones will talk without the use of the device, then with it.
"Basically the noise just disappears," he said.
Jones said the company is applying for more grant funding as well as talking with potential investors and strategic partners who are looking at how they might integrate the technology into their products. That includes companies that manufacture computer chips and semiconductors and want to offer top-of-the-line audio capabilities to electronics manufacturers.
The next step, he said, is getting the software into a distributable form, so it can run on a low-power processor in a laptop or phone.
Jones said Sonistic has a substantial edge over its competitors because of the size of its array.
"Ours is the smallest device out there," Jones said. "The size of our arrays makes them practical for use in any type of consumer electronics. We can get performance as good using an array that's the size of a postage stamp. It's a fairly major advantage for portable devices."