Servabo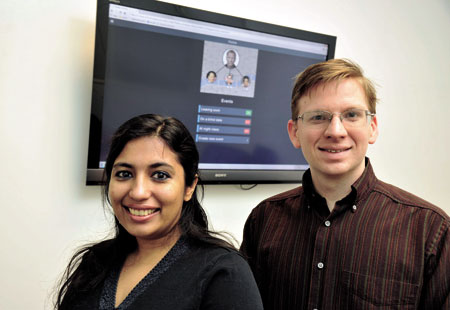 Photo by: Rick Danzl
Tim Deppen and Nishana Ismail were determined to do something after a friend of theirs was mugged in Urbana in January 2013.
At the time, both Deppen and Ismail were graduate students in mechanical engineering at the University of Illinois. The two were considering entering the Cozad New Venture Competition and wondering what the basis of their business should be.
Initially, Ismail said, their idea was to come up with "a better pepper spray" -- something that could irritate an attacker's skin, instead of the eyes. But as they talked with potential customers, they realized some people weren't comfortable carrying something that could hurt themselves or someone else.
Instead, Deppen and Ismail focused on a new way to get help fast in emergency situations -- something that wouldn't involve fumbling with a cellphone. They also wanted to avoid any mechanism that would call "911" automatically, fearing the device might be tripped by accident.
What Deppen and Ismail came up with was an "electronic panic button" that would send a preset message by cellphone to designated friends and family members. The information could be sent as a phone, text or email message. The user could predetermine a message -- for instance, "I am in danger. Call 911." In addition, the message would specify the street address for the user's location.
Besides specifying which friends and family members to alert, the user could update the device to reflect his or her expected whereabouts -- for example, "leaving work," "night class," "on a blind date" or another description provided by the user.
The base station for the system, known as Shadow, theoretically could be worn as a pendant, key chain, wristband or clasp -- and can send a message to a smartphone within a certain distance. So even if the phone has been snatched, someone using Shadow can message for help, and the phone will send a message without the snatcher's knowledge.
Deppen and Ismail's idea was chosen as the "most fundable venture" in the 2013 Cozad competition, and Servabo won the Student Startup Award at Champaign County's Innovation Celebration in 2014.
The company was one of three startups named "Most Promising" by Startup Voodoo, a Midwest entrepreneurism conference, and it was invited to make its pitch at the conference this past September.
Servabo, in the university's EnterpriseWorks business incubator, has developed a prototype for the base device and a test version of the app.
The company is planning an Indiegogo crowd-funding campaign for January, with hopes of raising $85,000 from Web users who like their idea.
Ismail and Deppen hope to have enough money raised at the close of the crowdfunding campaign to start manufacturing. Their goal is to have the device available for students starting school in August 2015.