Scholarships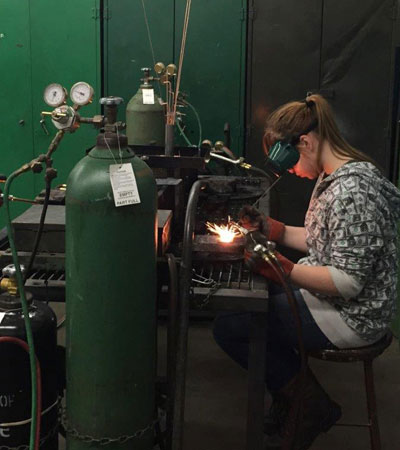 Photo by:
SHORTAGE OF HIGH-SKILLED WORKERS
According to Edward E. Gordon, an expert in America's future workforce, "Under current circumstances, by 2020, there will be 123 million high-skilled positions and only 43 million qualified to fill them, and in comparison, there will be 44 million low-skilled positions and 142 million qualified to fill those positions."
Marc Changnon said it really bothered him when he realized that fact. Changnon is the Unit 4 district coordinator of the Education to Careers and Professions Program.
He said he went into investigative mode at that point. He visited local industrial arts programs to see what he could figure out. He saw one of the teachers pulling apart some scrap wood in the shop.
"He had to dumpster dive to get the wood," Changnon said. "I couldn't sleep that night. Something had to be done."
"I went to all of the manufacturers. They said over and over that they need our kids," he said.
Changnon became familiar with Corrinne Hillard.
Hillard is the human resources and marketing manager at HL Precision Manufacturing Inc., Champaign.
EXCEL IN COLLEGE SCHOLARSHIP
Hillard said HL Precision wanted to sponsor kids to acquire dual credit for courses for high school and college. The students would get a paid summer internship. She said the company would get quality candidates.
"We launched the application," she said. "We gave it to Nick Elder and he reviewed it to see if this could work. Our big focus -- the key element -- was all of the things the kids would get out of it."
Elder is the director of education for employment system with Parkland College's Early College and Career Academy. He said that dual credit is one of the perks of the program.
"Two students would get their tuition, books and fees paid for. They would get a paid internship in the summer. Plus, by the time they graduate high school and enter Parkland they could have almost two semesters worth of credit," Changnon said.
EMPLOYMENT UPON GRADUATION
The HL Excel in College Scholarship would offer even more to students who qualify. Plus, HL Precision will have quality graduates to employ upon graduation, too.
"There are so many great things to offer here for the right people," Hillard said. "We work in the aerospace field, with cruise missiles, naval ships, government mandated simulation, the F-16 cockpit and an element for the ECO ATM. The things we work on are difficult and it's different every day. We have diverse customers."
Changnon said the HL scholarship will be earned. The criteria include: good grades, excellent attendance, good citizenship, U.S. citizenship, and completion of the written and interview process.
"They must uphold these standards," Changnon said. "We don't pay for failure."
Elder agreed.
"We are excited! We think this program is going to fill a void in what is currently available to our high school students. We have some excellent high school career and technical programs at our high schools, but this is a way to supplement those programs to make sure our students have the opportunity to pursue whatever career interests them," he said.
Hillard said that she foresees success on all levels with this new program.
"We needed to give a little incentive to get quality candidates," she said.