SAWBO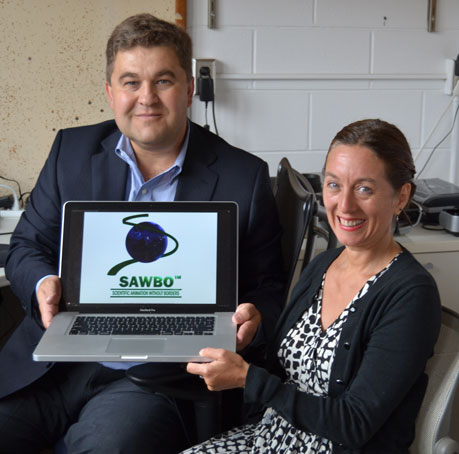 Photo by:
Nobody would argue that effective communication is one of the keys to a successful life. Julia Bello-Bravo, Assistant Director in the Center for African Studies at the University of Illinois, could not agree more.
"It's important to share information with other people," she said. "We want information, and we want to share it with others."
Bello-Bravo and Barry Pittendrigh, professor in the Department of Entomology at the University of Illinois, collaborate on the Scientific Animations Without Borders program. SAWBO puts Extension information on relevant topics such as agriculture, disease and women's empowerment into 2-D, 2.5-D and 3-D animations, which are then voice overlaid into a variety of languages.
"We were traveling together, on a ride home from Chicago, and we had the pieces come together," Pittendrigh said of their project.
All SAWBO animations are made freely available to anyone wishing to use them for educational purposes. Animations can be downloaded from a variety of SAWBO channels and used on computers, tablets, cellphones, TVs and overhead projection systems. The SAWBO video animators work in three main areas: agriculture, health and women's empowerment.
According to Bello-Bravo, millions of educational needs go unfulfilled every year. She believes that ordinary cellphones have the opportunity to be the greatest educational tool of our age.
"You wouldn't believe how far more important a
cellphone is to someone in West Africa than we realize," Pittendrigh said. "With Bluetooth transfer, villages use them in such creative ways."
Bello-Bravo said that even in the most rural areas of West Africa, the locals are very tech-savvy. Over 60 percent of the world's cellphone users live in developing nations.
"The villagers check crop and market prices on their cell phones," she said. "They use their phones constantly to do their business."
To date, SAWBO has developed more than 30 different 2-D and 3-D animations with voice-overs in over 50 different languages. The animations are really useful because, according to Bello-Bravo, many people in West Africa do not read or write.
"If you consider that in a country, such as Ghana, that has 70 different languages, it can be cost-prohibitive to produce videos that everyone can understand," Pittendrigh said.
However, with animation, the ability to comprehend such topics as survival gardening, Ebola prevention and how to wash your hands greatly increases. Additionally, the SAWBO team does its work online and that can be very cost-effective to produce the information.
Bello-Bravo maintains that the ideas for animation videos are endless.
"We can do this for any subject. I completely want people to view the videos and pass them along to others all over the world," Bello-Bravo said.
There are many opportunities to assist SAWBO with donations and collaborations. Go to http://sawbo-illinois4.org/ for more information.