Ridings-more than a dealer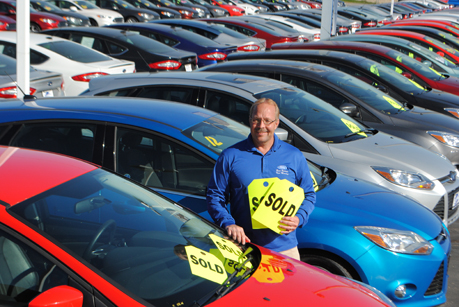 Photo by: Bridget Broihahn
Even though Rick Ridings has been at his current location for 19 years, his family has been in the car business for 40 years, starting with his dad.
"I grew-up washing cars," Ridings said from his office, in the building where renovations are currently going on.
The Monticello dealership, located on the outskirts of town just off of Interstate-72, is going through a major transformation.
"We're going through a complete remodel," he said.
The remodel includes a new service lane, new floorspace, more lot room, new offices and a brand-new façade. However, Ridings said it's more than a building.
"We build relationships here with our customers. They're like our family and we're also a part of the community," he said. "I learned from my dad that to sell cars is to take care of customers, and exceed their expectations."
Ridings sold his first car when he was 15 years of age. He didn't even have a driver's license yet.
"I was actually washing cars on my dad's lot," he said.
They were one employee short that day and Ridings was watching the lot to help out. A customer came along and started looking around. With nobody there, Ridings helped the customer decide to buy a car.
"We were in the office, and I could see my dad's face-I'll never forget it-as I helped the customer with their new Ford station wagon," he said. "I had fun. I knew that I wanted to do this as a career."
A graduate of Southern Illinois University-Carbondale with a degree in business administration, Ridings said he knew he wanted to be a small town dealer, too.
"Both my wife and I wanted to be in a smaller community," he said. "I'm a small town guy."
Ridings has made sure that the dealership plays a big role in giving back to the community. The business gives out donations to sports and all sorts of other activities in the Monticello area at all levels. Just one example of the Ridings generosity is the 13 acres that has been donated for use by the Future Farmers of America.
"It's totally managed by them. The seed company donates beans or corn. They plant, manage and harvest it," he said.
Ridings said it's really inspiring to see the FFA students visit the field and get involved.
"It also gets the in-town kids out there farming, too. It's really a good program. Whatever they make money-wise, we give it out as scholarships," he said. "One time the money was used to get members to Washington, D.C. to a conference, where the kids met the president."
Even though they are located in the small town of Monticello, Ridings' dealership sells about four times more than the average dealership. They're one of the largest simple point product dealerships in the area, according to Ridings.
Ridings' philosophy is to have a lower profit margin, but drive in more units sold. They are in their fourth year of accreditation by the Better Business Bureau, where it's imperative to have 8+ ratings out of a scale from 1 to 10.
"They look at your reviews, and how you handle customers. Our prices are good," he said. "Plus, we smile and welcome our customers. I also firmly believe in taking care of my employees."
A large percentage of the Ridings staff has been with him since they've been located in Monticello.
"Take care of people: your customers, your employees and your community" he said. "It's all about that. Plus, car buying can be fun! In fact, we give a dozen roses to our car buyers."
For more information go to: http://www.rickridingsford.com or call: 800-774-2521. Rick Ridings Ford, Inc. is located at I-72, Exit 166, Monticello.
bbroihahn@news-gazette.com