Regent Ballroom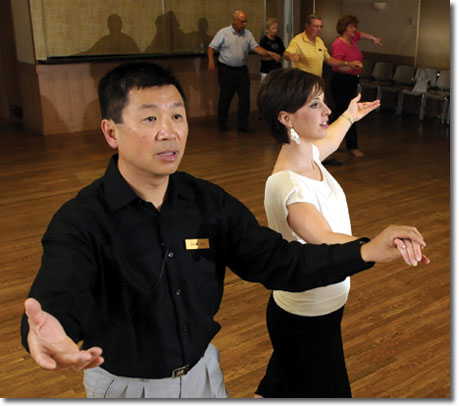 Photo by: John Dixon
With nine hours left in his college career, David Lin dropped out of the University of Illinois' School of Engineering to pursue a career in something he loved.
Saturday Night Fever was popular, and everyone wanted to learn how to dance. What started off as a "way to impress the ladies" turned into a lifelong career. Lin had always used his dancing skills as a way to earn extra cash by teaching, but he discovered it was possible to make a good living off of teaching, so he became a dance instructor.
Lin graduated from the Fred Astaire Chicago dance studio, where he learned to teach dance.
He eventually partnered with an existing dance school in Champaign, encouraging his partners to build a permanent facility at its current location, 1406 Regency Drive in Savoy.
When his partners decided to retire, Lin bought the business from them in 1984.
"A lot of dance teachers know how to dance, know how to teach, but are not a business person. I'm a business person. I love them both. After 30 something years of teaching, I'm still excited," he said.
Quickly after Lin bought the business, he implemented a plan to increase revenue and maximize the facility's use.
Multiple requests to rent the ballroom space spurred an idea to make money and provide a service, resulting in the Regent Ballroom Banquet Center.
For two years, Lin watched renters' chosen vendors use his space to create their events.
"If someone came in and messed something up, it was my name. They don't know who catered, they just remember Regent," Lin said.
After overseeing the banquet operations, Lin learned how to organize an event and manage a staff strictly employed to plan an event.
"I knew what to do and what not to do in a situation. After that we decided we wanted to have exclusive caterers--that way we can control quality," Lin said.
With the banquet operation and dance instruction, Lin's facility is used seven days a week.
Using creative marketing methods, Lin plans international trips, dances in surrounding towns, evenings dancing at Jim Gould's Restaurant, youth dance programs, private lessons and weekly Friday dances.
"The business is constantly changing. There's no mold, there's no set way," Lin said.
Lin and two other teachers teach two classes every night except for Saturdays, when the ballroom is used for banquets.
Dance instructor Liz Meadows uses visual demonstrations and verbal explanations to teach large classes with a wide variety of abilities.
"Our classes are for social dancing. We are not training for competition," Meadows said.
Lin said an average of 500 to 700 students are taught a week.
There are two distinct demographics Lin sees in his ballroom - empty nesters and singles.
"As we get older, a lot of people go to the gym, when you're on the treadmill, you don't really think much, you just workout. A lot of people sit down and play bridge, they think a lot, they don't do much. Dancing you do both - you're moving and you're thinking," Lin said.
Lin recommends beginners enroll in the ballroom class that teaches swing, waltz, fox trot and rumba, starting with the basics and moving to more complicated dances.
"The thing about our school that is different from others is we take you from kindergarten through college," Lin said.
Each class builds upon the previous class, ranging from a ballroom sequence to a West Coast Swing sequence.
"A lot of people come in and really just want to learn enough to be comfortable and end up studying (dance)," Lin said.
Lin and his teachers stick to partner dances only.
With constantly changing dance trends, Lin is always seeking mentors to teach him the newest steps to add to his repertoire.
"There are people in the business that that's all they do is teach teachers," Lin said.
There is much more to dance instruction then counting steps and memorizing moves, he said.
"I teach people how to have fun with dancing, just like with golfing--you don't have to be good to enjoy it," Lin said.
- Emily Fletcher can be reached at (217) 351-5244 or efletcher@news-gazette.com.