Raise the roof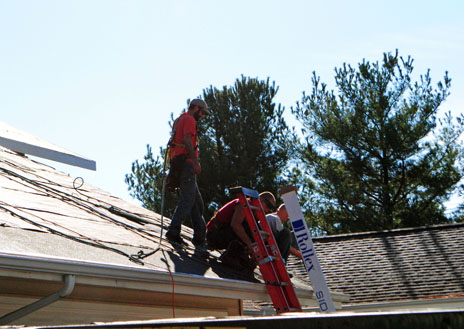 Photo by: Bridget Broihahn
Greg Allen's workspace for him and his crew is usually on top of somebody's house, outbuilding, garage or any other structure that has a roof that needs repairing. Greg Allen Construction and Roofing has been around for 21 years and started out in DeLand where Allen grew-up.
Allen is an outdoorsy type. So his vocation fits since his company is outside most of the year.
"I grew-up outside. My first jobs were always outside; detasseling corn, walking beans and baling hay as a kid," he said.
When he was just starting out as a young man, he mentioned to a local roofer that he wouldn't mind helping him. Allen was pleasantly surprised when the roofer asked him to join his crew a few weeks later.
"On the very first day, his right-hand man didn't show. So I took over for that guy. I then became his right-hand man and worked for him for a couple of years. I have been a roofer ever since," he said.
He then took the courageous leap of starting his own business, which isn't hard to believe because this former mayor of DeLand and softball coach for his daughters'- Rae Anne and Charley- teams is a go-getter.
"He also does a great job. He was very reasonable. I have people stop all the time and tell me how nice my home looks after my new roof was put on," Sharon Buchanan of Mansfield said.
She is not alone. Allen and his crew of four take customer service very seriously.
"We want to please our customers," he said.
In the peak months he has to expand his crew to keep on top of all the jobs.
"I will pick up two, three or four to help out in the summer. I like to hire local teens just starting out to get them trained on how it is to really work," he said.
To contact Allen call 217-202-3942 or email him at gregallenroofing@gmail.com.