Pages For All Ages Bookstore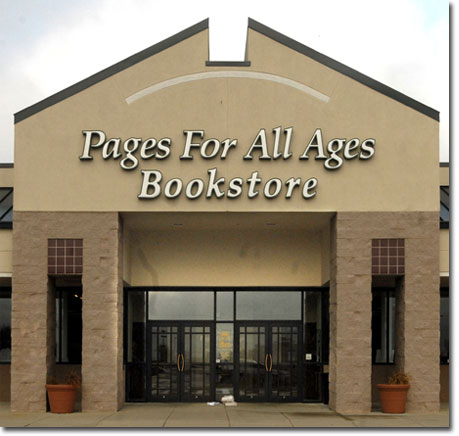 Photo by: Vanda Bidwell
From 5,000 square feet to more than 24,000 square feet, Pages for All Ages has expanded to fulfill Susan and Brandon Griffing's version of the American Dream.
Twenty years ago, the Griffings saw a need in the Champaign area and decided to fill it.
"When we got married, we really wanted try to do something together, and so we were able to envision this concept, and at that time, the large independent bookstore was a new concept while all of the chain stores were still smaller mall-type stores," Susan said.
With Susan's teaching background and Brandon's passion for literature, the bookstore was a good fit from the beginning.
"I love reading, I love books and we could just see this concept emerging at the time," Brandon said.
The special part about book selling is that one customer may look for books for their child, while another may look for information on a health problem, and often the store employees can lead the customers in the right direction to find what they're looking for.
"Sometimes you can tell you've truly helped someone," Susan said.
By buying a small store front shop in Champaign's Old Farm Shops on Kirby, the Griffings were able to offer a bookstore in the middle of town rather than at the mall.
"In those days at 5,000 square feet, we were considered huge," Susan said.
The community responded positively to the bookstore, and adding space became crucial to remain viable.
"As the years went on, we kept taking over neighboring stores and our friends at Body N' Sole kept moving down so we could expand," Susan said.
Eventually the Griffings ran out of available room and the parking situation became problematic with so much customer traffic. So they moved into a larger space in the Savoy Plaza shopping center.
"There's a synergy you have with your neighbors in a shopping center," Brandon said. "Each shop helps one another by bringing in traffic and feeding off those customers."
In the 20 years of business, Brandon said the move was the biggest challenge to overcome.
"The center itself has been slower in developing than obviously we would have liked," he said.
With the advent of the commercial book stores, Brandon and Susan have felt the ripples of competition.
"It definitely slices the pie up more, but we really feel strongly about the aspects of a business that are important to a strong independent bookstore, and probably other successful independent businesses, and that is providing very personalized, knowledgeable service," Brandon said.
Susan and Brandon give their 40 employees a lot of credit.
"We give each employee a sense of empowerment, that they really can handle a situation however they feel it needs to be handled in the best interest of the customer," she said.
Brandon encourages supporting independent, local businesses. Being an independent businesses gives the couple flexibility.
"Because we don't have a parent company saying 'here are your policies, you have to have every display look this way, you have to be totally the same as everyone else,' we are able to have a lot of flexibility. We're able to try new ways of doing things," Susan said.
It's more important than ever to impress your customers, Susan said.
"You can buy a book, you can buy a CD, you can buy a magazine almost anywhere, so you have to give the customer a reason to come to you, and let them know that you appreciate that they've made the effort," Susan said. "Without them, you're ruined. We wouldn't be here. And I think we've been fortunate but never take for granted the loyalty and support that the whole community has given us."
With well defined daily duties, Susan and Brandon work as a well-oiled machine using experience as a guide to find a harmonious balance.
One of Brandon's duties is to keep up on the latest titles and the classic sellers in order to be appropriately stocked.
Brandon considers the book's publisher, the author's track record, the subject interest and expense when buying for the store.
"You want to make sure your remaining objective enough and not so biased toward your own taste, but you're working toward pleasing the majority," Susan said.
Years ago, customers would wait for an order to come in for a particular book, but now they will purchase it somewhere else if the store doesn't have it.
"It's more important then ever for us to have what the customer needs in stock," Susan said.