Owens is presented with CIB excellence award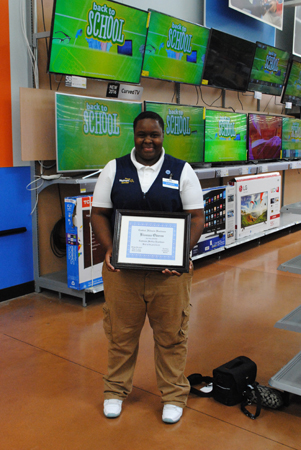 Photo by: Bridget Broihahn
Kianna Owens was awarded the Central Illinois Business Customer Service Excellence award Monday, July 25, 2016. She was awarded for her customer service skills and her kind and helpful personality. She had many nominations from CIB readers.
Owens left her home in Chicago's south side about a year ago to start over.
"There was just nothing for me there," she said at the Champaign Wal-Mart this week.
Owens said that she didn't like what was going on around where she lived. She needed something new and she said she needed opportunities.
So, she moved to Champaign and started living with her grandmother, Willie Mae Towns. She decided she needed a job, so she went to Wal-Mart and applied.
Right away she had a job.
"She became one of our door greeters," Thomas Baumgartner, the store manager said.
And because of her easy nature and helpful spirit she really shined at the position. Think about how it could be to smile, be friendly and helpful for an eight-hour shift. Owens made it look easy. She excelled at it.
So, she was recently promoted to the electronics department where she is bringing her own brand of excellence to that department, as well.
"I like it," she said.
Owens said her grandmother has taught her quite a bit in how to deal with people, a feat many of us struggle with.
"She always taught me to be nice, no matter what," she said from the electronics department. "You can't let people get you down and create hate in your heart. Respect is important."
Congratulations to Kianna Owens, our latest Central Illinois Business Customer Service Excellence award winner!