Outside the box spring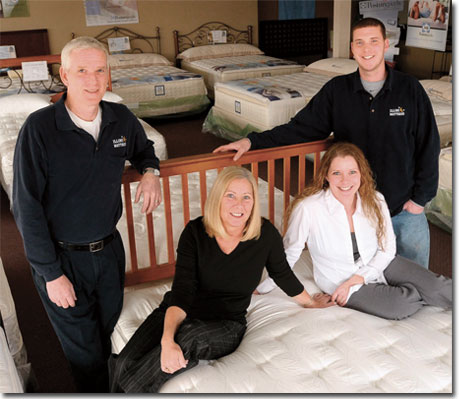 Photo by: John Dixon/The News-Gazette
Even from the parking lot, you can see the gold and brown sign that reads, "Family Owned and Operated."
The succinct phrase has a nice ring to it. Unfortunately, it's a phrase often overshadowed by the bright lights of chains and super-stores.
But Champaign-Urbana still has many stores that hold on to the value of working and building a business alongside family--including the Illini Mattress Co., on Country Fair Road in Champaign, a family business opened by Ed Stout in 1991.
Stout's not the kind of guy to name his business "Stout and Co.," or "Ed's House of Mattresses"-- he would rather pay homage to his hometown and university.
Stout's also not the type to key important dates into a Palm Pilot. More likely you'd catch him scribbling notes on his hand with a ball point pen.
His old-school approach is deeply rooted in knowledge, passion and customer service--the key elements in an independent business, Stout said.
"I was one man in '91; I just had myself. I built my own beds, made my own deliveries, waited on all my own customers," Stout said.
The heavy workload continued long after the store closed when Stout made the deliveries.
For 17 years Stout has worked 12 hours a day, seven days a week. Talking to Stout, he seems like one of the lucky few who actually enjoy what they do for a living.
"It's just a place I'd rather be," Stout said.
From the inception of the mattress concept Stout sold only beds he created from raw materials on site.
"We were strictly factory-direct, I didn't have any brand names. In '96 I realized I had three distinct groups of people: one that would look at anything I had, one group that would buy only my beds and another group that would look or listen to nothing but brand-name beds," Stout said.
In order to diversify products and appeal to the masses he began stocking brand name mattresses such as Sealy and Tempur-Pedic. Stout said it's almost unheard of for a mattress business to sell name brands as well as their own mattresses.
"We are probably the only factory-direct in the state of Illinois that sells brand-name beds," Ed said.
Because customers know Sealy and Tempur-Pedic by name, Stout knew he had to build a bed and fit it into a price point that cost less than brand name models to get people to consider them.
In terms of pieces sold, Illini Mattress creations are at the top. "We have a lot of repeat business or word-of-mouth business," Stout said.
Because Illini Mattress has been around and built a reputation for itself, the factory-direct concept has become a major selling point.
"A lot of the (customers) make me think outside the box," Stout said.
In some of his more unusual requests Stout has constructed round beds or heart-shaped beds.
"Probably the longest bed I've built a lady had a 14-foot bench in a basement. We don't have trucks that big, so it kind of went on the hood of the truck," Stout said.
"We can pretty much customize a bed to whatever the needs of our customers are," Stout said.
Back in '91, Stout couldn't be as flexible.
Because the store was a capital investment, Stout performed the day-to-day operations on his own.
When the business showed it would be viable, daughter Kristin Blackwell, son Mike Stout and wife Jan joined the ranks.
Blackwell said it took growing up before she saw the value in the family business.
"It's better than most people probably expect, we all get along really well. We still spend time outside of work, go out to dinner, hang out," Blackwell said. "It's really good."
One busy day, Blackwell discovered her knack for salesmanship. With a shortage of help on the sales floor, Blackwell was thrown abruptly into the mix.
"My daughter was the first one to come in and really get interested in it," Ed said.
Because customers are primarily women and the industry can be dominated by men, Blackwell offered an innovative perspective to the business, Stout said.
"As a female consumer, if something catches my eye or feels nice to me I just know it would probably affect other people the same way," Blackwell said.
Adding bed accessories to the products sold, paint to the walls and an overall updated perspective on sales, Blackwell slowly began to put her mark on Illini Mattress.
"My thing was to mill the bed, sell the bed and deliver the bed," Stout said.
Stout values "his girls'" opinions and uses them as a resource in choosing what to sell. He doesn't claim to know anything about thread counts, pillows, shams or comforters. He leaves that to the experts--his wife and daughter.
"It was a challenge to get him to look at things a different way," Blackwell said.
For a long time, Stout fought those changes, finally relinquishing some control to his daughter and wife.
"I didn't think I could sell certain price points on beds, and my daughter's attitude and ideas were totally different than mine," Stout said.
Blackwell refers to changing her dad's mind as "a challenge."
One of Blackwell's main duties is merchandising. She attends shows and ultimately chooses what will be sold in addition to mattresses.
Formally she is titled sales manager, while Jan is the personnel manager and son Mike manages production. Stout's best friend and Blackwell's friend comprise the other part of the workforce.
"Everyone who works for me--I suggest they need to build a bed so they know what it is and why it is," Stout said.
Stout said he doesn't experience a high employee turnover because the employees who work at the store are invested in what they do. The Stouts' children will take over the business when their parents leave full-time work behind.
Over the last decade, Stout said a transition has been taking place where more and more responsibilities have been delegated to others.
"Before it was always: 'This is how we are going to do it,'" he said.
Stout says he'll never truly retire, rather turn the reins over to the younger generation, including Blackwell. "She's got a direction she wants to take the company, she puts a lot of thought into it," Stout said.
Stout wants his children and grandchildren to have a secure future in the business. He owns the land to the east and south of Illini Mattress, allowing for possible expansion.
Blackwell said she and Mike Stout plan to operate the store with the same philosophy and principles with which their parents opened Illini Mattress.
Which is fine by Stout.
"Right now I don't have any worries about the future because of my daughter and my son," Stout said. "They want to have more things (in the store), and they've showed me that they can do well."
- Emily Fletcher can be reached at (217) 351-5244 or
efletcher@news-gazette.com.