One of C-U's oldest industries greatly impacts the local economy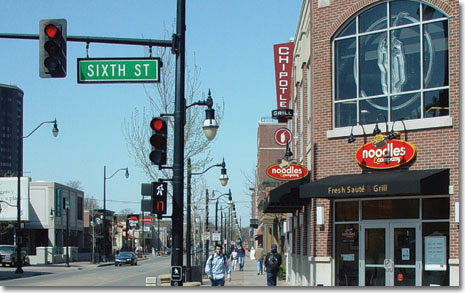 Photo by:
Many college graduates bemoan being thrust into the " real world" following years of education, study and fun. Joining America's workforce isn't easy for some, but for others, it's a breeze.
Jeff Olson graduated from the University of Illinois in May 2004 with a degree in general engineering and by July was employed full-time as an engineer. Olson chose to stay in Champaign-Urbana and took a job at a branch office of the Wisconsin-based company, Midwest Engineering Services.
I wasn't looking forward to having to commute into a big city for work when I could have a similar position here in Champaign, Olson said. It is a good location and provides the right opportunities.
Olson's choice to reside near his lama mater mirrors that of many College of Engineering alumni who not only begin their careers in C-U but start their own firms here.
In fact, a glance at the listings for engineering firms in the Yellow Pages reveals an abundance of listings for a community that barely surpasses 110,000, according to the U.S. Census Bureau's most recent estimates. The numerous firms employing highly-educated, well-paid engineers is no coincidence for Champaign-Urbana.
The University of Illinois not only put C-U on the map, its College of Engineering has reached world-renowned status as one of the finest institutions for an education in engineering. The University was founded in 1867 with two industries in mind: agriculture and engineering.
Just as agriculture has changed greatly in the 140 years since UI's founding, engineering has grown into a high-tech industry. Mining and railroads are no longer the primary focus of the College of Engineering. Instead civil, computer, mechanical, environmental and electrical engineering are the chosen fields of study for the 7,500 plus students.
According to the College of Engineering, more than $170 million from grants and endowments is used annually to fund 1,900 projects conducted by 650 researchers and thousands of students. This helps usher in new technologies in fields like computer systems, nanotechnology and bioengineering.
As the University expands, it bids these projects out to area engineering, architecture and design firms. Economic generators like Carle, Christie Clinic and commercial expansion keeps C-U's engineering services in demand, said Woodrow Chenault Jr., former president and CEO of Champaign engineering firm Daily & Associates, which merged with Foth Infrastructure and Environment LLC out of Green Bay, Wis. in 2005.
Chenault, who is semi-retired, cited the $24 million Boneyard Creek Project of 1999 as an example of municipal dollars being funnelled into local engineering services.
An active development community is a major engine for growth in these cities, Chenault said. This continues to feed the need for engineering services.
Other city initiatives like the Campustown redevelopment of Green Street not only channel large sums money to local builders and engineers, but also expand the Campustown economy. Coupled with the Boneyard Project, the $5.5 million streetscape project, completed in 2004 and 2005, made Green Street safer for large volumes of pedestrians and prompted businesses like Starbuck's, Potbelly's, Chipotle, Noodles and Coldstone Creamery to open in Campustown.
Engineering firms have extended their reach to service neighbouring communities and developments in villages like Tolono, St. Joseph and Monticello, which employ engineers for various needs from road improvements to stormwater drainage. With home offices in C-U, these outreach efforts help to draw dollars back into the community.
Extending the reach to a regional scale, Champaign-based firm Clark Dietz has opened offices in Chicago, four locations in Wisconsin and two Indiana branches. Jerry Payonk of Clark Dietz Inc. said although the company has a 55-year history with C-U, these branch offices were all opened in the past 20 years after the company became employee-owned in 1987.
Prior to merging with Foth, Daily & Associates had branch offices in Peoria and Louisville, Ky. Other firms may lack branch offices in other communities, but that doesn't prevent their services from being contracted from afar.
Engineering services can be sought on a national, or even international scale, since services can be provided from afar.
Chenault said some companies working overseas will outsource design and construction projects to foreign firms but seek services from an American-based engineering firm to ensure quality results.
We work as liaison to protect the client and make sure the foreign company is doing the work properly, Chenault said. This is a niche we've adopted in a globalized world. Technology has allowed for design and drawings to be transferred electronically.
Professors turned professionals
It's surprising to think anyone would give up a tenured teaching position at a major University, but in the mid-20th century, several professors did just that and opened private firms.
The interstate highway boom championed by President Eisenhower created a plethora of opportunities for civil engineers, Chenault said. The federal government's funding provided a deluge of money for the highway project.
There was a lot of engineering to be done and a lot of money to be made doing it, Chenault said.
For this reason, a handful of professors stepped into the private sector. Payonk said U of I engineering professors Jim Clark, Eugene Daily and Jess Dietz founded Clark, Daily and Dietz in 1953. By 1963, Daily had split and started his own firm, Daily & Associates.
Some of the first downstate engineering firms were founded right here in Champaign, Payonk said.
As an example of the federal job opportunities coming to C-U, Chenault said that stretches of Interstate 57 and the peripheral interstate highway around Memphis, Tenn., were both engineered by Daily & Associates.
Chenault said a second boom for the engineering industry came in 1970 when the federal government passed the Environmental Protection Act. Environmental cleanup initiatives meant more government and private contracts for engineering firms who aided in the studies, logistics and overall cleanup effort.
Payonk, who specializes in transportation engineering, said the need for civil engineering services continues today.
Maintenance and improvements to roads are always going to be needed, Payonk said. My concern is that we will become less of a service and more of a commodity to those [potential] clients who look strictly at the bottom line.
He said engineering services are typically 6 to 10 percent of the overall project cost.
Today, the majority of C-U's engineering firms largely focus on civil, environmental and structural engineering. But local engineering jobs aren't all about roads, water and buildings. In fact, the most common engineering position in C-U is computer engineering, according to 2005 numbers from the U.S. Department of Labor Statistics. In 2005, there were 580 computer software engineers employed in C-U. Civil, mechanical, electrical, industrial and other engineers round out C-U's community of more than 500 engineers. The industry's total employment is more than 1,500 when technicians and support staff are included.
The Bureau's statistics on wages for 2005 listed electrical engineers as the highest paid with an average yearly salary of $85,000 in C-U. Computer software engineers averaged a yearly salary of about $69,000 and civil engineers averaged a salary just shy of $60,000. Engineering managers averaged a yearly salary of $82,360. The architecture/engineering industry listed an annual salary of $57,520 as the average of all 1,500 employees in the category.
Rick Kubetz of the College of Engineering said the average starting salary for a 2005 graduate with a bachelor's degree in engineering was $55,000. Recipients of a master's degree had an average starting salary of $65,000. When taking C-U's cost of living into consideration, the prospect of a well-paying job in a relatively inexpensive community further illustrates why C-U is an engineering stronghold.
A community of engineers
With several firms vying for the same construction projects and building contracts, one would assume C-U's engineering community to be highly competitive. Chenault said this is not the case.
Some large jobs may require a mixture of services that no single firm can provide, he said. In these cases, local firms will work together when it is advantageous for the client.
Chenault said these firms meet to agree on the project rules and define each firm's role. This is to assure the client that local resources can meet most project requirements.
We are trying to keep out foreign firms, like those from Chicago, Chenault said. If it's done locally, the money stays in the community.
Outside firms also lack the track record and recognition that local firms have derived from years of work.
For example, the University and the City of Champaign chose local firms to team up on the Boneyard Creek Improvement project.
Champaign funded the first phase, which included constructing the Healey Street Detention Basin and covering the Boneyard Creek. Daily & Associates was contracted to enclose and landscape the narrow strip of land the creek cut through. Today, from First to Wright Street, the creek is entirely under a wide sidewalk and small strip of park space.
The creek had been an eyesore for a number of years, Chenault said. Now it is enclosed into this labyrinth of tubes with park space where it once was.
For the next phase, Berns Clancy & Associates headed up the University's portion of the project that focused on deepening the Boneyard's channel from Wright Street to Lincoln Avenue. Daily & Associates was subcontracted to work on the channel's bridges.
This collaborative effort not only provided a much-needed facelift to the Boneyard, but also encouraged development of UI's campus.
Professionals, academics and students of engineering foster social organizations like the Hydraulic Engineers Luncheon Club, one example of the networking opportunities for engineers.
The club is an informal group that meets once a month during the school year to discuss engineering issues with water. Chenault, who served as the club's president or Water Master, said members discuss projects, complications and ideas about hydraulic engineering.
Champaign-Urbana is home to offices for the Illinois State Water Survey, Illinois Geological Survey and the United States Geological Survey's Illinois Water Science Center. These government agencies conduct research and studies of the state's geological resources, soil and water issues.
Champaign is also home to the National Center for Supercomputing Applications (NCSA). This center, opened in 1986, is committed to research in the rapid-paced world of computer technology.
The resources these entities provide coupled with the College of Engineering's treasures, like Grainger Library and the Beckman Institute, further illustrate the nurturing environment for the engineering sciences in Champaign-Urbana.
There are advantages for engineers here that they can't find in other communities, Chenault said.
Payonk said interpersonal relationships with engineering professors can help with problem solving.
If something comes up on a project that we're at a loss to figure out, it's nice to talk to a professor and find out what the latest teachings and methods being used are, Payonk said.
Tom Berns of Berns Clancy & Associates said that nearly all of the engineers employed by his firm are University graduates.
We're the number one school in the world, why else would you bring anyone else in? Berns said, referring to the College of Engineering's consistent top ranking of the civil engineering program. There is a new crop of engineers every semester.
Several area firms and the city of Champaign's engineering department seize on the University's abundance of young and eager manpower with summer jobs and internships providing practical experience for budding professionals.
Berns himself taught as an adjunct professor at the University before serving in the Illinois General Assembly. His love of the community and University date back to the 1960s and after graduating in 1968, Berns found a job at a local firm before starting his own firm in 1975.
There are wonderful opportunities in this community, Berns said. It's vibrant and moving forward. It's not very stagnant. Good things happen all the time.
Jacob Dittmer can be reached at 217-351-5244 or jdittmer@news-gazette.com