More than cuts and color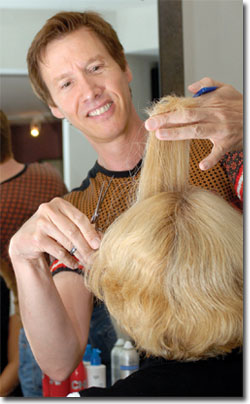 Photo by:
A Community coiffeur's sense for business and style has led to 26 years of salon service in Champaign-Urbana.
Tim Sharp, owner of Timothy John Salon, chose his path simply based on his personal interests.
"I've always liked aesthetics and fashion and that kind of stuff. I had friends who were going into it, so I just kind of followed them into it," Sharp said.
Sharp's first venture started as a joint effort.
"Me and another guy had a small salon in downtown Champaign," Sharp said. "It was just a little storefront, and I decided I wanted to open a more salon and spa type thing."
The salon and spa concept was new and not as popular as it is now, Sharp said.
Sharp decided to break off on his own in 1981 and create Timothy John. He used his first and middle name, Timothy John, rather than his first and last name, Timothy Sharp, because he thought it sounded 'cooler.'
Although Sharp has found a location he likes at 404 W. Green St. in Urbana, he still has fond memories of his first shop, an old house on the corner of State and Clark streets.
"We did massage and all of that from the get go," Sharp said. "It was so rare at that point that at one time, a Champaign cop came to make sure our massage was legitimate, it's just so funny because now massage is everywhere."
Licensed locally, Sharp decided to keep his roots embedded in Champaign-Urbana. He is originally from Tolono.
Now that Timothy John is settled in a primarily residential neighborhood with tree-lined streets, Sharp feels at home.
"We've been in different locations over the years," he said. "At one point we even had three salons two in Champaign and one in Springfield. And we had an eight-year stint in Johnstown Center on campus."
Because of the salon's proximity to campus, the shop sees a 25 percent increase in sales during the University of Illinois school year.
"When school's in session, we do a lot of suburban girls," Sharp said. "This is a salon where suburban girls can get all of the stuff they get in the city for a lot cheaper."
Sharp chose the location because of its close proximity to campus and available parking.
"We love that. That's partly why we bought this location, because of the combination of parking and the closeness to campus without being in the heart of campus where you can't get people in and out as well," Sharp said.
Three days a week, Sharp works as a hairstylist, a change from his younger years when he worked day in and day out to try to make a name for himself.
As the business grew, Sharp employed his mother, Patricia Swope, as a business partner. Two sisters, hairstylist Trudy Godsell and receptionist Tammy Beaird, also joined the now family-infused business.
"The family thing has really helped a lot, too," Sharp said. "I think if you are doing something by yourself, it's really hard to do it for that long. But, when you have family around and everyone kind of has an area they do, it makes it so much better. It's really a combined energy."
He said people are amazed so many relatives can work together and get along.
With 25 employees, Sharp offers a wide range of services, including facials, massages, manicures, pedicures, makeup, hair cuts, colors and styling options.
As a marketing tool, Timothy John offers a popular 'spend the day' option. For $160, the salon provides a six-hour pampering including a manicure, pedicure, one hour body massage, catered lunch, make-up lesson or facial and haircut and style.
"We sell thousands of them," Sharp said.
He said the spa day option shows people the gamut of services the salon provides that they otherwise may never have tried. And if they really enjoy one of the services, they may come back and get that service done again.
Sharp hires his staff as employees instead of renting out chairs to stylists.
"Chair rental is more of a real estate deal where people actually pay you so much a month and then they are really not employed by you," Sharp said.
Sharp's employees work on commission. So, the more money they bring into the salon, the more money they make.
Keeping employees happy so they want to remain with you is important to the success of your business, Swope said.
"We hire the best people we can find," he said. "We have one girl who has been with us for 20 years. A lot of people have been here for 10 to 15 years," Swope said.
Because of the store's longevity, Sharp sometimes finds himself cutting three generations of clients' hair.
"It makes you feel ancient," Sharp said, laughing.
Sharp's approach to business seems obvious - providing good service within an inviting atmosphere.
"We've always been a casual little spot," he said. "It's not snotty, it's not real fancy. It's just real casual, folksie with really good service."
Emily Fletcher can be reached at 217-351-5244 or efletcher@news-gazette.com