Money and happiness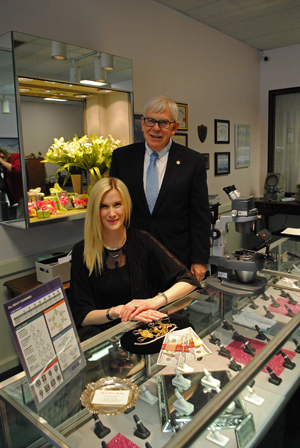 Photo by: Bridget Broihahn
Fine jewelry is pretty complicated. Basically, it can be described as precious metal that -sometimes with the addition of semi-precious or precious gems- adorns the wearer and makes an artful statement. Beyond that, it is pretty complex: it can be a symbol of a marriage engagement, a gift, a symbol of membership, and the list goes on. People even debate what jewelry means to them, personally. Some consider it an investment, while still others look at more personally, and both of these ideas are correct.
The one common theme is that jewelry is, indeed, valuable.
"It is all about money, art and the happiness it represents," John M. Reed of M.J. Reed Jewelers said last month from the jewelry store.
And jewelry is fluid. Its value is constantly fluctuating.
"It's all money and the movement of it," Reed said.
Money. Now that gets some attention.
John M. Reed is the president of M.J. Reed Jewelers, located at 1735 W. Kirby Avenue in Champaign in the Old Farm Shops. Reed is a second generation jeweler, with his father before him being the first. According to Reed, his father bought the jewelry business from A.E. Wusteman in the 1940s. Wusteman purchased it in 1920. The actual business has been in existence for almost 120 years.
Ponder what the business climate was like in the late 1800s when this seasoned business started in downtown Champaign, right on Main Street. This business has stood the test of time: weathering economic peaks and valleys, fashion trends and the demands of customers.
Reed and assistant manager, Caitlin M. Davis, both know the value of the customer is as valuable as the fine jewelry they sell. They have a full service jewelry facility with an onsite goldsmith, as well. Many people stopped in on a rainy Tuesday to look, buy and sell their jewelry to the business.
Yes, that's correct: sell. Reed said that they offer highly competitive pricing when it comes to the purchasing of customers' jewelry.
"I don't have the overhead that most jewelers do," he said of one of the benefits of having a business that's been open for around 120 years. "Everyone has different needs."
Reed said they want to make sure they meet those needs of their customers and they can be as varied as the gems and precious metals, with their market fluctuations like any other commodity.
"When you think of gold, you think of Fort Knox, of gold bars and our money system," Reed said of the gold standard our economy is based on here in the United States.
When it comes to gold, karats are the measurement of purity in relation to the mass of the object and how much of an alloy is in the gold jewelry. Pure gold, 24 karats, or 100 percent gold, is too soft to work with and so alloys are added.
"The main alloy for yellow-gold can be either copper or silver," Reed said. "In white gold, nickel is the alloy."
Most common is 10 karat (10K), 14K and 18K gold.
"So, 14K is 58 1/3 percent pure gold, while 18K is 75 percent gold," Reed said.
For example, 14K gold means that 14 parts of 24 karats are gold, and so on. The higher the number the more valuable, but the softer the gold.
M.J Reed Jewelers will give an on-site appraisal of your jewelry and an offer in cash for your items. They also offer same day setting and repairs, free cleaning, inspections, handle insurance claims, and if pre-approved, they offer free financing. They are located at 1735 W. Kirby Avenue in Champaign, or call them at 217-356-1387. They are open Monday through Friday from 10 a.m. to 5:30 p.m. Go to their site: reeddiamonds.com or like them on Facebook.