Mike Hedge is president and chief executive officer of Birkey's Farm Store Inc.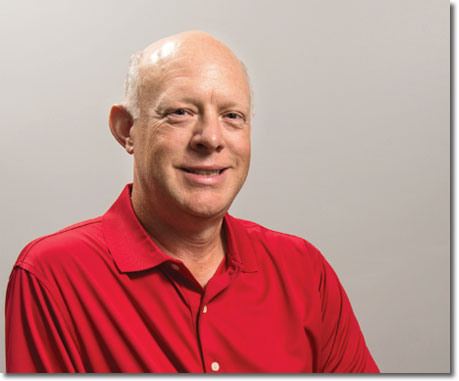 Photo by: Robin Scholz
[CIB] What was your first paying job?
[Mike Hedge] Besides walking beans and detasseling corn, the first regular summer job I had was working in the pro shop at Brookhill Golf Course in Rantoul.
[CIB] What is the biggest challenge for you in your job on a daily basis?
[MH] Balancing the time needed to think about the vision and strategy for the company with the need to be personally available to employees, customers and vendors. Both are critical.
[CIB] What is the most satisfying part of your job?
[MH] It is very satisfying to be a part of a growing organization that values people and relationships and to see hardworking, honest and talented individuals grow in their careers and responsibilities here.
[CIB] What is the best advice you've received?
[MH] Realize that there is much that you don't know. Ask a lot of questions, most specifically "why," and be willing to consider perspectives different from your own.
[CIB] What is the best advice you can offer other entrepreneurs or business leaders?
[MH] Surround yourself with talented, customer-focused individuals who possess high integrity and invest time, energy and effort to help them succeed.
[CIB] Who was/is your mentor and what did that person teach you?
[MH] I learned much from our two previous CEOs, Gary Hedge and Ron Birkey. Dad has always modeled the value of hard work and providing for my family. Ron instilled in me the importance of bringing others along with me. Learning to seek input, gain buy-in and build consensus has been invaluable. My mom, Cyntha Hedge, has always encouraged me to give my best effort to whatever I am doing.
[CIB] What accomplishment are you most proud of?
[MH] I am proud that in the midst of our rapid growth, we have been able to maintain a healthy culture that continues to value long-term relationships with our customers and employees. We want Birkey's to be a company that people like to do business with and a place where employees like to work.
[CIB] What do you like about Champaign-Urbana?
[MH] I appreciate the Midwestern values here in Central Illinois and the benefits that accrue to us by having one of the best universities in the country here in Champaign County.
[CIB] What are your hobbies?
[MH] Golf, playing guitar and photography.