McWilliams Awarded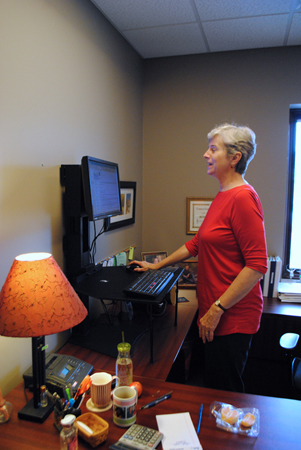 Photo by: Bridget Broihahn
Attorney Traci Nally of News-Gazette Media got right to the point.
"She's my hero," Nally said of Valerie McWilliams, the managing attorney for Land of Lincoln Legal Assistance Foundation. McWilliams has been at Land of Lincoln for over 30 years.
Nally was a classmate of McWilliams at the University of Illinois.
"Valerie was second in my law school graduation class. Maybe that accomplishment is only impressive to other lawyers. But as a practical matter, it means she could have written her own ticket to high-end Chicago law firms like Sidley & Austin or Jenner & Block. Her first year's salary right out of law school could have been more than what I earn today after three decades of practice. But she chose to work for at-risk, impoverished and disabled people in East Central Illinois for a meager salary," Nally said.
It's no surprise to the local legal community that McWilliams was recently given an award.
"Val was honored as the East Central Illinois Women Attorneys Association's 2016 award winner for Exceptional Service to the Community," Miranda Soucie said.
Soucie is the president of ECIWAA and a law partner at Spiros Law in Champaign. McWilliams was nominated by attorneys Ramona Sullivan and Ellyn Bullock.
"I first met Valerie in January 1994, during my first year of law school. I asked her if I could volunteer at Land of Lincoln, and she welcomed me. Valerie taught me about court procedures, about client representation, about community involvement. She created a position for herself in the legal community that allows her to use her talents to live her vocation. Central Illinois greatly benefits from her vision and her leadership," Sullivan said.
Sullivan was formerly with Land of Lincoln, and is now with the Champaign County public defender's office. Bullock is in private practice where she specializes in adoptions of all sorts. She won the Champaign County Bar Association's Pro Bono Award many times over for her service, too.
"Val has a unique experience. Everything she has been involved in has culminated into an understanding how charity, integrity and law policy can work together. Her entire life reflects this understanding. That's why Ramona and I nominated her for the award," Bullock said.
McWilliams was honored to be chosen, of course. However, she sees a lot of work ahead in fighting poverty.
"I have loved working at Land of Lincoln these past 30-plus years. The quote I think of frequently that reflects my view of working here is by the writer Frederick Buechner: 'The place God calls you to is the place where your deep gladness and the world's deep hunger meet.' To get paid to help people every day? What could be better than that? I particularly enjoy the combination of being able to help individuals with the legal challenges they are facing in a variety of areas but also work on systemic issues that adversely impact large numbers of folks. I enjoy both the intellectual and creative challenges of addressing underlying issues," McWilliams said.
During 2016, Land of Lincoln staff and volunteers provided legal assistance in over 11,900 cases.
Land of Lincoln is the sole provider of civil legal services for low-income persons in 65 counties in Southern and Central Illinois, according to information provided by the foundation. The area covered comprises almost 33,000 miles. Interestingly, this area makes up almost 60 percent of Illinois' entire area. Of all rural counties in Illinois, Land of Lincoln covers 72 percent of those rural counties.
According to Land of Lincoln, the area it serves has an overall poverty rate of almost 16 percent. This exceeds the state average of 14.6 percent. In addition, 15 counties in the Land of Lincoln service area have poverty rates of greater than 18 percent! There are over 373,000 people living in poverty in the service area of Land of Lincoln. That works out to over 11 people living in poverty per square mile within the Land of Lincoln service area. This is why McWilliams keeps plugging away and helping others.
"Outside of her tireless efforts to improve the lives of those who cannot afford legal assistance, she spends countless hours volunteering in the community, including heading up a neighborhood garden aimed at teaching at-risk youth critical life skills and offering fresh produce in a low-income community farmers' market," Soucie said.
The garden is none other than Prosperity Gardens, a nonprofit promoting education and employment through neighborhood farming that is located on First Street in Champaign and neighbors Land of Lincoln. McWilliams is a staunch supporter of the program, which is led by Nicole Bridges of the University of Illinois Extension.
And while she enjoys her work, she has some issues she refers to as "frustrations."
"Frustrations? One of my areas of specialization since I began working here is public benefits," she said.
Her frustration is the enduring and polarizing myths concerning welfare.
"What most people think of as welfare, the TANF program (cash grants for parents and children) are actually very rare. There are many myths about the SNAP (food stamp) program, as well, but from my perspective, it is by far the best thing we have in this country to reduce hunger in low-income communities. The scale of people receiving services from food pantries and soup kitchens is quite small compared to the number of folks receiving SNAP benefits," McWilliams continued.
McWilliams believes that if the SNAP program ended, the nonprofit and faith-based community efforts would fall far short of filling that gap.
"Also, I read stories or hear reports about how easy it is for people to be approved for disability benefits. In fact, if you talk to advocates who do this kind of work, our everyday experience is that it is pretty hard to persuade the Social Security Administration that someone is unable to engage in substantial gainful activity and it seems to be getting even harder. Extreme anecdotes rarely make good policy," she said.
So, while the award and her work are both very satisfying, McWilliams sees every day that the quest to end poverty is equally as frustrating. And she knows this well. Yet, her work -- and her life -- will continue on, helping others.
"She has held almost every position possible at Land of Lincoln, but as a former colleague described her to me, her most important position has been as the heart and soul of Land of Lincoln," Soucie said.
McWilliams joins an impressive group, including past award winners Julia Rietz, Stacy Tutt, Ramona Sullivan, Sue Jones, Mary Manning, J. Steven Beckett and John Thies.