M2 on Neil breaks ground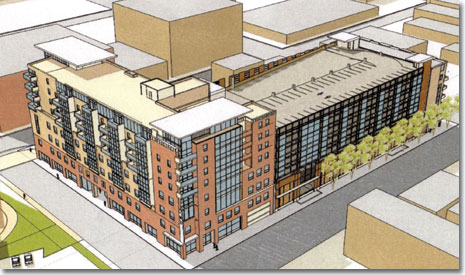 CHAMPAIGN - On April 30, One Main Development and RATIO Architects broke ground on a $41 million, 230,000 square-foot, nine-story mixed-use building in downtown Champaign. M2 on Neil will house restaurants, retail shops, businesses and condominiums.
Located at the northwest corner of Neil and Church streets, M2 on Neil's first floor will offer a mix of dining options, unique retailers and a financial institution. Office and commercial space will occupy floors two through five. Condominiums on floors six through nine will range from $170,000 for a one-bedroom condo to $430,000 for a two-bedroom condo with master suite, balcony, kitchen and other amenities. The condominiums will range from 700 to 1,900 square-feet.