Luxurious flooring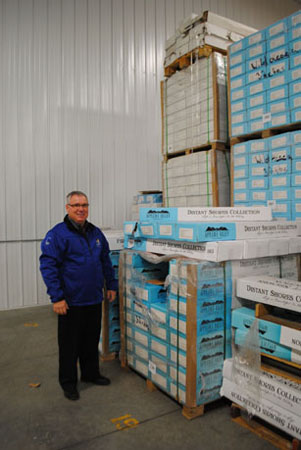 Photo by: Bridget Broihahn
Kevin Applebee is an idea guy. He's always thinking of ways to improve things.
Applebee is the president of Flooring Surfaces. Inc. He started the company back in 1995, a company that grew out of ideas he gathered early on in his career in sales.
"I was a salesman for Tile Specialists and Carpetland. In my work I gained new ideas on how to improve the flooring business. I bought the wholesale and retail business from TSI," Applebee said.
They did well, too. Flooring Surfaces' business has tripled since its inception in 1995. Their first location was 706 W. Bradley Ave., C, but their expanding business made it necessary to relocate to a new retail and storage facility at 401 E. Mercury Drive in Champaign's Apollo industrial park in 1999. Next, they opened an outlet store to sell their overstock in 2014. The outlet is located at 1703 N. Dunlap Ave., Savoy.
They even had a branch in Missouri, but when sales went down, they closed up shop and cut their losses. It was a prudent business decision, too.
"Numbers do not lie. We were down 40 percent in sales (in Missouri) and we knew it was time to concentrate on our business in Champaign," Applebee said.
Applebee and vice president of sales and marketing, Jaden Peck, are always looking for ways to diversify the flooring industry to build profits.
When new home building profits went south a few years back, Flooring Surfaces still had gains.
"When that happened we did well in commercial flooring," Applebee said.
"The difference is we have a different business model. We are our own distributor. We buy large quantities, and we buy directly from mills," Peck said.
When they cut out the distributors, they were able to pass on the savings on to their customers, Peck said. Factory direct products-and prices- are a guarantee at Flooring Surfaces.
"We don't offer goofy sales. We have real sales and real savings. Our outlet store has the deepest discounts around," Applebee said.
Applebee said that 50 percent of their business is commercial including restaurants, multi-family dwellings, remodels, commercial construction and new construction. They also have their own private label line of flooring, called Applebee Valley, which includes their Distant Shores Collection and LVT, or luxury vinyl tile, just to name a few. It's been a great development for them and another way to get products to consumers at a deep savings.
"We first started with LVT 10 years ago. It got hot five years ago and has been going strong ever since," Peck said.
Flooring Surfaces has storage in two warehouses. They have a "Floors to Go" showroom with a one-stop shop for customers' floor covering needs. Their goal is to provide the best and largest selection of carpet, laminate, vinyl, hardwood and tile with design professionals on the premises. They offer complimentary in-home design consultation, free in-home measuring and estimates and professional installation.
Come on out to the Mercury Drive location or call Flooring Surfaces at 217-398-1990. For more information go their website at flooringsurfacesinc.com.