Low overhead is one secret to T.Kelly Jewelers' success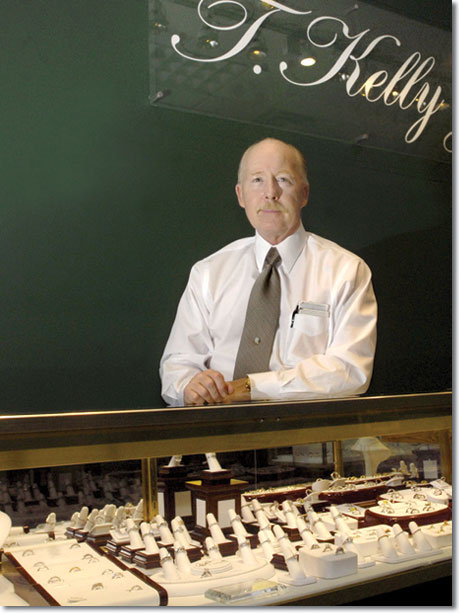 Photo by: Heather Coit
Owner Timothy G. Twedt wipes down the crystal clear glass cases each morning before he opens the doors of his jewelry shop in downtown Champaign. He wants the brilliant diamonds, sapphires, emeralds and other gemstones to shine through clear glass.
"I have unique designs--very high quality color, very high quality designs and because my overhead is small, we don't have 10 employees. So, my overhead is minimized. That's always been my theory of giving the customer better quality at a lower price," Twedt said.
Twedt runs the independent family-owned business himself with the help of a designer and part-time jeweler.
"I deal with the customers all myself. If I'm not here, we're not open," Twedt said.
In the beginning, his shop was contained in a briefcase rather than four walls.
A bad investment turned out to be a golden opportunity for Twedt. While working at a nuclear power plant, Twedt and a few co-workers pooled their money and invested in some rare coins with the idea to resell them for a profit. But there was no interest in the coins, and the group was stuck with coins and no outlet to sell them.
"On the job site, a lot of the trade workers had these big gold rings and stuff so I said, 'Let's put the coins on a chain and bezel and try to sell them like that,'" Twedt said.
The coin creation still wouldn't sell, but the chains became popular with the workers.
With 5,000 workers on the site, Twedt found a good niche of customers. He began selling chains and charms out of a briefcase.
Twedt's job had required moving to different states every few years. As a layoff approached, Twedt decided to lay roots in Champaign with his newborn daughter and wife. He opened a 108 square-foot shop on campus and marketed his jewelry to college students.
After another move to Green Street, Twedt decided to change his direction and open a shop downtown selling higher end merchandise and designs.
At the time, Parkland college offered one of the only courses in the country that paralleled the GIA gemological course in California. Twedt received his completion in both colored stones and diamonds.
Twedt mixed his previous knowledge of metals with his newly acquired course work and created One Main's T.Kelly Jewelers.
Twedt hopes to eventually pass the business on to his daughter, the business's namesake, Kelly Twedt.
Kelly will graduate with a masters degree in vocal performance from the University of Colorado in May.
But for now, Kelly is not completely content to settle down in Champaign permanently, but she said she would be honored to take over the business at some point far into the future.
While pursuing a career involving her major she knows she always has a job to come home to.
"It's like having a really fabulous backup plan," Kelly said.
Kelly attends buying trips with her father twice a year through the Independent Jewelers Association.
The elite IJO distinction puts Tim in good company. Jewelry sold at T.Kelly Jewelers and other IJO jewelers have appeared in the pages of Vogue, Allure and Lucky magazines, thanks to the advertising cost sharing of the IJO association.
There are 850 IJO Jewelers nationwide and there's only one in an area, Tim said.
"Believe me, every jeweler in town would love to be the IJO jeweler," Tim said. "It opens up a huge amount of opportunities and advantages for us."
IJO jewelers are the largest buying group in the country, which gives them the opportunity to directly import diamonds.
"It gives me a distinct advantage over the other jewelers in town," Tim said.
Some designers only choose to work with IJO Jewelers, allowing Tim to work with some of the best jewelry designers in the world.
A European apprenticed Swiss designer helps Tim create one-of-a-kind pieces.
"For my money, he's the best designer in the state," Tim said.
Some of the pieces are bought from designers around the country, sketched and molded by the in-store designer or purchased as a stock piece.
T.Kelly Jewelers always sets its own stones. Because of the IJO's buying power, Tim can supply his customers with better quality diamonds at a lower price than other jewelers, he said.
"We get diamonds for our customers overnight to look at. My theory is, instead of trying to sell somebody something that I have--my job is to find them what they want," Tim said.
He specializes in diamonds that are cut for beauty, not for weight.
Poor cuts and inclusions will lower the value of the diamond. Tim refers to these as "frozen dog spit."
"The brilliance of a diamond is 100 percent due to the cut," Tim said.
In theory, a quarter carat ideal cut diamond looks like three-quarters carat because of the light-illuminating facets, Tim said.
"If a young man comes in here with a $500 engagement budget or a $5,000 engagement budget, he can get something beautiful," Tim said.
Tim said he tries to sell beautiful stones and pieces.
"My theory has always been it's better to have one really nice piece than a bunch of pieces that are inferior," Tim said.
He also said, "I'm not a salesman. If I had commercial stuff--I'd go broke because I can't sell, but I have really cool stuff that sells itself."
- Emily Fletcher can be reached at (217) 351-5244 or efletcher@news-gazette.com.