Lines out the door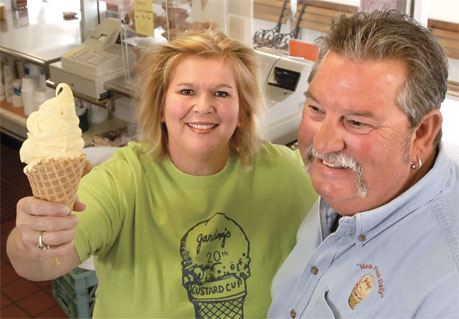 Photo by: na
Doug and Christy Jarling exemplify the "mom and pop" business.
When discussing their business, Jarling's Custard Cup, the two speak of anniversaries, important dates and milestones the way parents would reflect on their own child's first steps, high school graduation and first car. This is because for most of their lives together, the Jarlings have served the area's favorite dessert.
Businesses open every day in America aiming to achieve what Jarling's has maintained for years: lines out the door and a satisfied, recurring clientele. But the first year's of Champaign's Custard Cup weren't glamorous for its mom and pop.
"For a time we were each working 60 hours a week, 298 days of the year, no day's off," Christy said. "We've had countless meals that were bought across the street at Jerry's IGA."
The couple's unwavering dedication and the business's core product are a large part of Jarling's continued success. Custard Cup offers five flavors of frozen custard in take-home containers, snowstorms, cones, sundaes, sodas and much more.
"The product could stand out there on the street and sell itself," Doug said. "We decided to stick to one thing and not try expanding into burgers, fries and more hassle."
Just as "mom and pop" businesses are becoming a thing of the past, so too are independent ice cream shops. The two said the greatest expenses are the energy costs of keeping the store cool and the custard frozen, dairy supplies (which continue to rise with corn prices), and payroll (with the average hourly employee getting paid $8 to 9 an hour).
However, on good days, business pours in with a record of more than 1,000 transactions occurring on one 10-hour day of operation. In one day, the store can go through 120 gallons of frozen custard.
Perhaps it's Doug and Christy's commitment to the store's history that has kept them successful. The store produced its trademark frozen custard on machine from the 1930s until it was replaced in the mid-80s.
Custard Cup's history dates back to 1949 when George Potter opened Potter's Custard Cup in Danville. A recent graduate of the University of Illinois' Dairy School, Potter devised a recipe for a frozen treat he called "custard." Although Potter's recipe doesn't contain eggs, the distinguishing characteristic of custard, the 93 percent fat-free "iced milk" or "light frozen dessert" that Custard Cup is known for, has remained unchanged for nearly 60 years.
"'Jarling's Iced Milk Cup' doesn't sound as good as 'Jarling's Custard Cup,'" Christy said.
In 1969, Potter sold the shop to the Jarling family. Doug Jarling was only 15 when his parents, Wilmer and Dot, bought the store. He was standing beside his father when Potter explained the finer points of the custard machinery.
"I've always been a bit more mechanical in nature, and that is how my father was," Doug said. "My mother had the business sense while dad orchestrated the equipment. That's pretty much how it is with Christy and myself."
By the late 1970s and early 80s, Doug's parents were easing out of the business and Doug and his sister, Nancy, took over managing the business and decided to expand it into Champaign.
"We had a lot of customers driving from Champaign for Custard Cup," Christy said. "So expanding there was the next step."
On April 28, 1983, Jarling's Custard Cup was opened at 309 W. Kirby Ave. in Champaign.
Champaign icon
Within a couple years, the Champaign branch of Jarling's was a popular destination for frozen treats. Its high visibility on Kirby Avenue and proximity to the University and Hessel Park helped attract customers, Christy said.
"We're like farmers in that our business is weather-driven," Christy said. "The good days drive them in and the cold days keep them out."
Nearly every year, the U of I's graduation falls on the same weekend as Mother's day, creating a surge in business like no other.
"It's like Christmas for us," Christy said.
July 4 is the only day of the year that the store stays open an extra half hour in an effort to serve the hordes of people leaving Memorial Stadium's fireworks display.
Custard Cup has become such a part of Champaign life that even in death, a long-time customer's funeral procession drove around the store one last time before the person was laid to rest, Christy said. The wake followed with mourners gathering for frozen custard.
Jarling's is also a choice destination for youngsters needing a pick-me-up and young men popping the question.
The hectic days and endless lines are a trademark of the business as referenced in their first t-shirt from 1985, "I survived the lines at Custard Cup." Being able to handle the non-stop crowds is a prerequisite of employees. Christy said about 85 percent of those hired can handle the craziness, but some can't take it
On the busiest nights, eight to 10 employees will serve customers. The store's staff is largely composed of teenagers with 21 part-timers and three full-time managers.
"Working in this business keeps you young at heart," Christy said. "We work around teens and young people so it keeps you in that mindset."
Christy said a big challenge is finding day-shift workers.
"Any job where you have to wear a name tag has a stigma," Christy said. "The college kids don't consider it a 'real job' and choose not to work here even when they're back for the summer."
With the exception of one manager who has been with the store for 13 years, finding committed employees isn't easy.
"Our economy continues to be geared toward the service industry, but a lot of people frown on it and are encouraged to stay away from it," Christy said.
It isn't always lines out the door for Jarling's. In 1996, the business opened a branch in Urbana that lasted for two years before closing on day three of its third year.
"We found that most of the customers coming to Urbana were people who passed the Kirby store, saw the lines and kept driving to Urbana," Christy said.
With business fluctuating drastically at the mercy of weather, Custard Cup closes its doors in November and reopens in early March, a wise business decision that gives the Jarlings a welcome break.
"We used to travel in the time off," Christy said. "Now with our son in high school, we stick around town. We're looking forward to traveling again once he's graduated."
Doug and Christy, who are in their early 50s, are not sure what will happen once they retire.
"We can't see ourselves behind the counter at 75," Christy said.
The two own Potter's recipe and have considered franchising, but realize the differing state dairy laws and being out of the day-to-day aspects of management would compromise the store's hometown feel.
But regardless of what the future holds for Jarling's, it remains an icon of summer evenings in Champaign.