Let the games begin!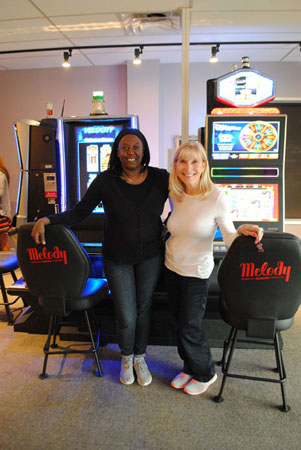 Photo by: Bridget Broihahn
The video gaming business, Jim's Place, located at 403 West Kirby Ave. in Champaign is a tribute to the late James Burch, the real estate broker and co-owner of Burch Kiser Real Estate LLC.
Barbara Burch Rogers was married to Burch, and together they had their daughter, Sarah Burch.
When Burch passed away, his daughter inherited his estate, including the property where Jim's Place is now located. Sarah Burch is a graduate of De Paul University and a successful pharmaceutical account executive in Tennessee.
"We had three people interested in buying this property and turning it into a video gaming establishment," Rogers said.
Rogers said her daughter looked into what it would take to establish a video gaming business. They decided it would be a good opportunity for them both.
"This was Sarah's idea. She started sending me pictures from Pinterest," Rogers said.
Rogers has worked in accounting for many years. As she was looking to semi-retire, Sarah Burch decided this business would make a nice management opportunity for her mother. So, they decided not to sell the property and go into the video gaming business for themselves, with Sarah Burch being the owner and Rogers managing the business and day-to-day operations.
Rogers is very candid in her praise about her employee, Tracy Walker, who they enticed away from another video gaming establishment. Walker is Roger's full-time staff member.
"She takes care of everything on the floor. When I told her we were opening a place and she came along, it was really a good thing," Rogers said.
She said Walker does all of the scheduling and is Roger's right hand in the business.
"She taught me a lot about video gaming," Rogers said.
Surprisingly, it's a fairly simple business, because the Illinois Gaming Board has strict stipulations on the way the business is to be handled. Customers feed in their own money into the gaming machine and it credits or debits them as they play. Then, if they get a pay-out, the machine gives the customer a pay voucher. Then, they feed the voucher into an ATM which pays the customer their winnings.
"We do not have access to the money at all," Rogers said.
In fact, they have less than $100 at any given time during open hours.
Rogers said that in order to be a licensed operator they need to sell food and drink. That includes alcohol.
"The gaming board is very particular. We do not sell much alcohol, however," she said.
Walker said they have a loyal clientele. Burch said that many of their customers are retirees who want to kick-back and have some fun. Both Burch and Walker shared how they get a kick out of the customers and their strategies and superstitions.
"We're doing very well," she said.
Jim's Place has weekly specials-like free food- plus, happy hour specials and drawings for "play" money that customers may use to play the video game machines.
"For everyone's safety we have video cameras all around. Our hours are 11 a.m. to 11 p.m., seven days a week," Rogers said.
Rogers said her staff is very seasoned and knowledgeable. She is proud of the way they deal with customers and how they handle themselves as employees. She said they recently had a sting operation by the local police department that they passed with flying colors.
"We had a little celebration because of it for the staff," she said.
Rogers said for readers to come on out and try video gaming at Jim's Place, where they pride themselves on the operation.
"It's a fun time and something a little different. We would love to have everyone come out," Rogers said.