JT WALKER'S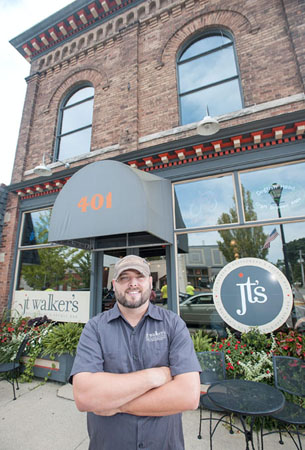 Photo by: Rick Danzl
Anything worthwhile takes time. It can be a process and even an evolution. That is how Justin Taylor speaks of JT Walker's Restaurant & Brewery, located at 401 E. Main St., Mahomet in the iconic building at the end of the street that was built in the 1890s.
The restaurant opened in July, 2008. The brewery opened in November of 2013. Many, many events were sandwiched in between that five year stretch, though. Taylor said it was intense. Even his first child, a son named Walker Taylor was born that November 15. Intense indeed.
Ironically, Taylor is a degreed journalist- a sportswriter- who was a stringer for The News-Gazette at one time in his career.
"In 2006, I moved here from Washington, D.C. I was then a play-by-play sportswriter for the Peoria Kings," Taylor said while sitting at the polished oak bar in his restaurant, as locals enjoyed a Tuesday lunch.
The Peoria Kings was an expansion team of the American Basketball Association who began play in 2006 and ended play in 2007.
"One of the partners took the team's money," Taylor said.
Taylor really liked Mahomet, having grown-up there and still having family in and around the area. So, he came home, bringing the experiences he had gleaned from his sportswriter days.
"I was into the local food scene," he said.
Being a sportswriter in many cities gave him ideas about clubs and restaurants that he cherry-picked along the way on his journey back home.
"I was going to open a restaurant and sports bar in Champaign," he said. "But, at the same time, in late 2007, the liquor law was passed in Mahomet. So, I thought, 'Why should I open a place in Champaign, when there are opportunities in Mahomet?' I was going to work."
There were no bars on Main Street Mahomet at that point.
"We had a deal to buy the building, but we couldn't get in until 2008,' he said.
Construction began.
"Mike Miller took on the rehab from floor to ceiling," he said. "We had to add a kitchen, heating and air."
Finally, they opened July 28, and the people in the village welcomed them.
"A couple of years in, we wanted to build a balcony patio," Taylor said. "We wanted to keep growing."
It was determined that they couldn't build a balcony on the old building, so long story short, they added it on top of the building adjacent to their own. People can now walk out from the upstairs "Dog Pound"-named for the local Mahomet-Seymour mascot, the Bulldogs-out to the patio area, which seats 49 customers.
The old Simplified Computers building sat empty, right across the street. Taylor's plan for growth was about to be put into action, once again. He wanted JT Walker's to be a destination, a place for friends to meet, feel comfortable and enjoy themselves. It was time to put something in that building across the street.
"It all started with a home brew kit," Taylor said.
His friend Aaron Young, who is now in charge of everything brewery or brewing related at JT Walker's and Champaign County Brewing Co.
"He had a year. We wanted a classic feel, like we'd been here forever," Taylor said of the brewery development and furnishings.
Things came to a head.
"You have to get a federal brewers' license to brew beer," he said. "We also had to order new equipment. It's hard to buy old equipment. People keep using their equipment"
Then the State of Illinois informed the brewers that they had to have a brewpub license from the Alcohol and Tobacco Tax and Trade Bureau, or TTB.
"We had our brewpub, and then we had to get a distributor's license," Taylor said.
It was determined that they needed to add a wall to the brewery, so after that was completed, they had to reapply again for both federal and state licensure.
"That was another six to eight months," he said. "Finally, in October of 2013 we were licensed."
They opened the brewery the following November. And business is good.
"We have hundreds of craft beers," Taylor said.
JT Walker's has original beers, such as Hale to the Chief, Nine Gals, Orange & Blue, Bulldog and 47 & 74. They also have seasonal beers like Sangamon River, Walker's Original Cream Stout and Lake of the Woods Wit, to name a few.
They create brews in collaboration with other local businesses. One such craft beer is called Crane Machine in collaboration with Crane Alley and Flying Machine Coffee House both of Urbana. They added five gallons of freshly ground Papa, New Guinea espresso to make a dark, almost black brew. Besides Crane Alley and Flying Machine Coffee House, they have created beers for or with Ko Fusion, Tumble Inn, Destihl, Jupiter's Downtown and Big Grove Tavern.
The brewery even created Chester's BBQ Ale for Mahomet native Brent Chester, who owns and operates Chester's BBQ Truck. They feature his BBQ in their restaurant, as well. They added Chester's special BBQ rub blend to create a smoky, spicy ale.
For more information on JT Walker's Restaurant & Brewery, go to: http://adf.ly/1W2dhnm or call 217-586-2665.