Horn goes above and beyond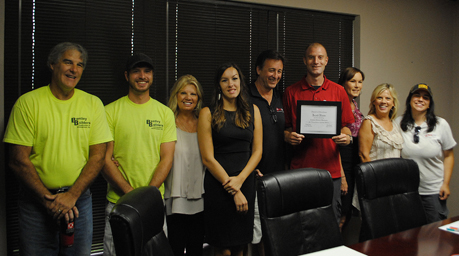 Photo by: Bridget Broihahn
Jared Horn, seen here in the red shirt, is our current Central Illinois Business Customer Service Excellence award winner. It really wasn't a difficult decision, either.
When the News-Gazette building on 15 Main St., Champaign flooded about a month ago from an onslaught of six inches of rain in under an hour, supervisor of maintenance, Chris Ard called Puroclean of Champaign to come out and assess the damage. The entire garden room, located in the lower level, was destroyed. Ard had this to say about Horn and the Puroclean team: "They came right in and helped get our building back in tip-top shape. Horn was a true leader."
Ard said Horn was one of the most capable and competent professionals he's ever worked with, and that his code of ethics is outstanding.
"You just don't find people like that every day," he said.
His boss, Jeff Bentley, said he has an outstanding work ethic.
"Jared is very conscientious about his work and always puts the customer first," he said.
When CIB arrived at Puroclean to surprise Horn with the award, the entire staff was waiting- with donuts- to celebrate and congratulate their team member. Horn was like most deserving people; he was honored, but understated.
Congratulations to Jared Horn of Puroclean!