Home décor ideas and more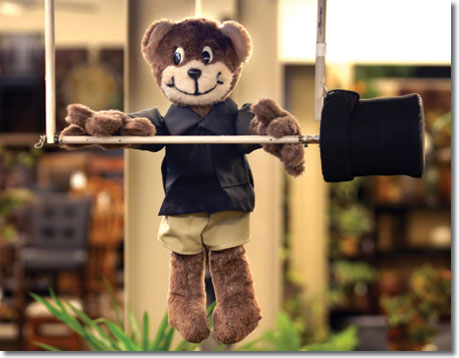 Photo by:
The costume-clad hanging bear still does chin-ups from the ceiling of Prairie Gardens in Champaign.
In fact, not much has changed at the store since it opened in 1969 besides inventory updates. The business still focuses on customer service, the greenhouse still provides quality blooms and the same owner who opened the business remains an intricate part of its day to day operations.
Home furnishings retail manager Taryn Thurman recalls watching the acrobatic stuffed bear go around and around a bar when she was a child.
"The bear has been here since the store opened," Thurman said.
Thurman came into the store often to visit her grandmother, Fauniel Thurman, who retired after 30 years of service as a buyer for the floral department.
"She loved it," Taryn said. "She lived in Indiana and drove to and from Indiana to work everyday."
It seemed natural for Taryn to work at Prairie Gardens when a position became available in the furniture department.
"I have to live up to (my grandma's) standards of course," Taryn said.
She enjoys the close relationships she has with customers who have shopped at Prairie Gardens for years. Taryn said her child is already being prepped to work at Prairie Gardens.
The store has approximately 50 full- and part-time employees.
Assistant manager Jim Wuersch buys plant material and grows the aquatic plants for the greenhouse.
"I see everyone from people who have shopped at Prairie Gardens since probably its inception--all the way to small children," Wuersch said.
Customers come to the store looking for new ideas to decorate their homes, which Taryn said it provides.
"We view ourselves as a home décor store based inside and out," Wuersch said.
Prairie Gardens is known for its live plants, trees and shrubs.
Owner Jeff Wandell grew up with a family of green thumb growers. He started the original store in Urbana, which sold only plants.
"His father introduced many, many trees that the cultivars are still used today. He grew up with a tree nursery that he branched out into a retail nursery," Wuersch said.
Some newer or unusual varieties of annuals, perennials, trees and shrubs are grown on site, he said.
"We shop from coast to coast for the best vendors in plant material," Wuersch said.
In order to compete with the big box stores, Wuersch continually looks for new and unusual plants. The employees are also knowledgeable about how to care for the plants, he said.
During the gardening and the holiday seasons, Prairie Gardens extends its hours.
"Christmas is the season for us," Wuersch said. "For years the store has been totally Christmas."
Spring also brings an influx in business, he said.
The store has plenty of room for future growth.
"Mr. Wandell was wise enough to buy enough space for us to expand if we needed to," Wuersch said.
Because of the success of Champaign's Prairie Gardens, Wandell opened four other stores in Bloomington, Springfield, Peoria and Terra Haute, Ind. They are all named Jeffrey Alans.
A central warehouse a block north of Prairie Gardens in Champaign contains the stock for all five locations.
- Emily Fletcher can be reached at (217) 351-5244 or
efletcher@news-gazette.com.