Heirlooms for tomorrow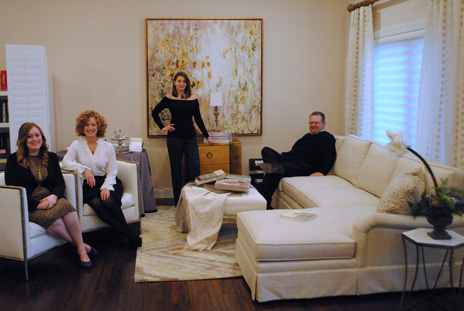 Photo by: Bridget Broihahn
Good enough is not good enough.
Le Ann Meyer, design consultant at Draperies & Interiors by Design, Inc. feels every customer should get exactly what they want.
"Our work is never just good enough. We want to surpass a customer's expectation and create their dream for them," she said.
She owns the home interiors company with her husband, Roy Meyer. Their business is located at 1804A Woodfield Drive in Savoy. Their building can be seen from Neil St., however, on the west side of the street.
"We're known for our draperies," she said. "But we are so much more."
Ah, indeed they are. Draperies & Interiors is a one-stop shop for custom interior home design with goods such as blinds, shutters and shades for windows, fabrics and trim for everything from draperies, bedding, upholstery, table runners, and throw pillows, wallpaper, furniture and accessories like lamps, mirrors, artwork, faux wrought iron and the list goes on. The only limit is the imagination.
Draperies & Interiors by Design also specializes in commercial application. It does not matter the size of the company or organization, they will get your project done by the company deadline and within the business budget. They have the advantage of bulk buying discounts and commercial upgrades to make the project go smoothly. They offer commercial blinds and stage curtains, all with flame retardant materials. They have experience in restaurant design, as well as banks, schools and universities. They can tackle facilities such as group housing, as well as factories.
They work with high quality designers and suppliers like Conrad, Draper, Levelor, Carole Fabrics, Ralph Lauren, Kravet and Thibaut to name just a few of the many companies they do business and design with regularly.
"We also do custom draperies and interiors, too," Lauren Dubnicek said.
Dubnicek is also a design consultant at Draperies & Interiors. She is joined by Sage D'Amato to complete the design staff of three. Roy Meyer handles installations, along with part-time employee Roger Shaw. They enjoy nothing more than to transform a house into a stunning home- a respite from the day-to-day.
That's correct. Dream it and they will help clients achieve their perfect design or custom furnishings.
"We're building the heirlooms of tomorrow," Le Ann Meyer said.
Not only that. If a customer has a certain size specification, they can accommodate this issue. Chair depth may be an issue for a tall person, for example. Draperies & Interiors can assure the customer that their custom furniture is an absolute perfect- and comfortable-fit. Plus, custom pieces add value to the overall design.
Custom furniture is also an investment, as it can enhance the portfolio as well as the home. Auction houses, like Chicago's Wright, have seen custom furniture pieces, valued at $2,000 to $3,000, go for as high as $25,000 at auction. Additionally, imagine the historical value of handing down a custom piece of furniture to a beloved family member. Lastly, custom furniture, a legacy, if you will, is made to such specific detail that there will be none like it anywhere. A one-of-a-kind.
"Quality is what we're about. We want to help those that want to invest in their interiors and design," Le Ann Meyer said.
Roy Meyer made the distinction between Draperies & Interiors and other stores that sell furniture.
"When you go to buy a piece of furniture, they are going to sell you what they want to sell. With us, we are going to sell you what you want," he said.
To find out more about Draperies & Interiors, go to their website at draperiesandinteriors.net, call them at 217-359-8710, or stop by the store.