Healing hands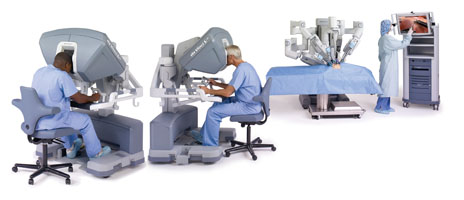 Photo by: Intuitive Surgical
The Central Illinois area has had robots here for years. No, not the scary kind from science fiction lore, but the kind that are helpful. In fact, they are members of the surgical team at Presence Covenant Medical Center.
The thing is, they are helping patients heal faster, with less pain, less bleeding and smaller incisions. That means less scarring. Patients get back to their daily lives quickly, too.
This somewhat new technology arrived here at our own Presence Health Covenant Medical Center and has been used by Christie Clinic surgeons ever since with amazing results.
"We acquired this technology in 2011," Michael Smith MD, regional medical director, Presence Health robotic surgery, department of obstetrics and gynecology, Christie Clinic said in-between patients. "It's huge for our area. It's cutting edge."
Jared Rogers MD, regional CEO, Presence Central State said that upon the arrival of the robotic arm, their surgeons became very passionate about it: a di Vinci Si HD, a surgical system that can perform intricate tasks like peel a tiny grape without any trouble.
"There are two modules: one at the patient's side, and one from across the room," Rogers said.
Rogers said the system allows the surgeon's hand movements to be translated into smaller movements using very tiny surgical instruments inside the patient's body. The surgeon has 100 percent control of the robot at all times.
"We performed about 150 robotic procedures in that first year," Rogers said. "The next year, the amount of procedures doubled."
According to da Vinci Surgery, the system has been used for cardiac, colorectal, gynecological, head and neck, thoracic, urologic and general surgery on over 3 million patients worldwide. For those in Central Illinois, however, the only place that offers it is Presence Health and the surgeons of Christie Clinic.
"It's amazing that we have this technology right here in Central Illinois," Smith said. "This has totally changed my practice of medicine. The patients do so well that if something would happen to remove the robot from my practice, I would quit medicine that day."
Rogers said that the technology has been around for over a decade and continues to evolve. It's leaps and bounds over former technology.
"With the robot, it's true hand-eye; therefore, surgeons use right with right-hand and left with left-hand," Rogers said.
However, there is a down-side to this technology: insurance companies may not cover the robotic procedures as they stand right now.
"It could add to the surgical cost, but it is not reimbursed by insurance. So, the patient may be left to take care of the balance," Rogers said.
Smith said that they are able to make sure the patient isn't saddled with an additional cost, however.
"Insurance covers robotic surgery every time. We code the robot surgeries as just "laparoscope" cases ... no different than the other way. There currently is not any specific codes to robotic cases," Smith said.
To find out more about robotic surgery in the Central Illinois area go to: presencehealth.org/presence-covenant-medical-center-urbana or christieclinic.com/specialties/general-surgery