Great escape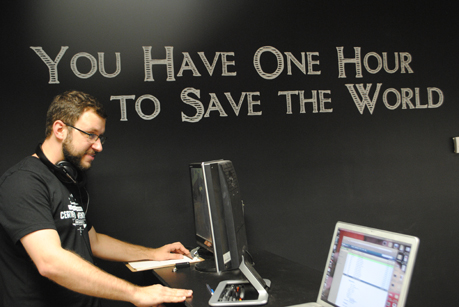 Photo by: Bridget Broihahn
It isn't everyday that one escapes from doom, and in the process, saves the world. Champaign-Urbana Adventures in Time and Space is now the go-to place for fun. Located in Urbana at 123 W. Main St., inside Main Street Plaza, CU Adventures offers a real-life game experience where teams of 2 to 8 players have one hour to find clues, complete puzzles, discover secret doors, find a way to escape and save the world.
Local filmmakers, Anne and Chris Lukeman, have always been passionate about story-telling through film. Recently, however, they have become interested in the potential of telling a story in an even more immersive medium. Escape rooms are just such a medium. Popular in Asia, they are now emerging into the scene locally.
"There's nothing quite like an escape room. It's like interactive theater without actors, or like living a video game in real life. It's a 60-minute rush unlike anything else. Players must use observation and critical thinking to locate clues, find secret doors, and solve a series of puzzles within the time limit," Anne Lukeman said.
A vacation to the Wisconsin Dells, and a visit to a local proto-escape room-or a scavenger hunt- had the Lukemans thinking about interactive entertainment options for adults in the CU area. They have been planning CU Adventures for two years.
"Over the summer, we realized we needed to move forward with it if we were going to do it, so we started looking for a space, planning puzzles, and working out the story. I actually wrote and ran our first adventure ,"Office Hours", as a tabletop role playing game, "Call of Cthulhu," for some friends, and then again at Gen Con, the largest gaming convention in the world, this summer, and got some really great feedback," she said.
Once they found a space in downtown Urbana, they were able to start the build and rewrite the first adventure with the space in mind.
"We moved in on September 1, and got everything ready in about a month! We have already had quite a few friends, families, and corporate groups come through, and it seems like everyone has had a great time," Lukeman said.
"At CU Adventures, we try our best to foster and improve on that experience by offering immersive themed rooms, so you really feel like you're inside the experience, and a narrative thread that give players not just a puzzle to solve, but also a story to enjoy," Lukeman said. "We would describe our first adventure as Indiana Jones meets H.P. Lovecraft, with a bit of the 90s TV show "Legends of the Hidden Temple" for good measure."
Lukeman said that CU Adventures is ideal for friend groups and families who want a truly unique and exciting activity.
"It's also a great corporate outing for team-building and fostering communication skills. Book now to save the world," she said.
Tickets must be purchased in advance by 11:59 PM of the previous day at http://cuadventures.com.