Fuel from the farm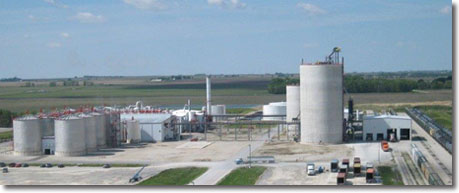 Photo by: The News-Gazette and One Earth Energy
The 200 trucks arriving at and leaving from the ethanol plant at the edge of Gibson City daily are good news for the economy of this agricultural area.
The trucks bring in the grain used to make ethanol, dried distillers' grain and corn oil. They haul away the distillers' grain, and rail cars ship the ethanol to markets in the Southeast.
One Earth Energy produces 110 million gallons of ethanol annually, with $250 million in sales. It began operations four years ago, in the summer of 2009. The plant was founded by a joint effort of five area grain cooperatives.
The plant buys 371/2 million bushels of corn annually, most of that coming from within 50 miles of the plant -- meaning lower transportation costs for the ethanol plant and a higher demand for the corn local farmers are producing.
"It's been a great stimulus to the agricultural economy -- equipment dealers, fertilizer dealers. There are more houses being built, new farmsteads, new farm buildings," said Steve Kelly, general manager of One Earth Energy.
The finished ethanol product goes to New York, Georgia, Tennessee and Florida.
The plant also produces dried distillers' grain, sold for livestock feed, mostly to Asian markets; and corn oil, used for industrial lubricants and biodiesel.
One Earth Energy is one of 13 ethanol plants in Illinois and 214 nationwide.
Demand for ethanol has increased over the last five years, as the amount of the fuel required to be used by refiners has increased.
The federal government mandates, through its Renewable Fuel Standard program regulations, that a certain volume of renewable fuel be blended into gasoline. That volume is 13.8 billion gallons for 2013, and it increases annually. Ethanol is the fuel used to meet that standard.
The issue, though, is the U.S. doesn't have the capacity to use that much ethanol, said University of Illinois agricultural economist Darrel Good. The U.S. used just under 13 billion gallons of ethanol in 2011 and 2012, and he said consumption will likely be similar this year.
Almost all the ethanol is used as a 10 percent blend in gasoline, he said, and "gasoline consumption has stagnated."
That's the "blend wall" -- the amount of renewable fuel mandated to be blended into gasoline is more than the amount the country will use.
Good said it isn't likely that we'll start using more gasoline anytime soon. And while the Environmental Protection Agency has approved blends of gasoline with up to 15 percent ethanol for most vehicles, he said, "the infrastructure for delivering E15 hasn't really unfolded."
Good said E85 -- fuel that is 85 percent ethanol and can be used in flex fuel cars -- is a way for the ethanol market to expand. However, it currently isn't inexpensive enough and there aren't enough gas stations delivering it to significantly increase demand for ethanol right now, he said.
"What that says is the demand for ethanol, or the ability to consume ethanol, has basically plateaued the last two years," Good said. "That's causing a lot of concern within the industry. In 2014, the mandate goes to 14.4 billion gallons and in 2015, it goes to 15 billion gallons.
"There may be very slow growth even into next year," he continued. "We just don't see more miles driven. We see E85 progressing pretty slowly. We're not expecting lot of growth in demand for ethanol."
Ethanol production currently accounts for about 30 percent of the corn consumed in the country, Good said. That market isn't going to get reduced, he predicted, but "the growth we've experienced in the last five years looks like it's peaking."
However, Good expects the plants currently operating to keep doing so at close to full production capacity. He also expects the margins for ethanol to improve somewhat.
Ethanol plants operate on a low margin, Kelly said. About 90 percent of the cost of operating the One Earth Energy plant is buying the corn. That means a year like 2012 -- with its severe drought and corn prices hitting historic high levels -- hits the industry hard.
"It was our most challenging year financially," Kelly said. "We did make money that year. We just didn't enjoy the types of margins we were accustomed to in 2009, 2010, 2011.
"Because of the high price of commodities and the low margin in the business, we've seen some less-than-efficient operations go by the wayside this year," he said.
Kelly said some of the older, smaller plants are among those that have stopped production. Their economies of scale are not as efficient as larger plants such as One Earth Energy, with a production capacity of 100 million gallons, Kelly said.
He expects any growth at One Earth Energy will be driven by increasing the efficiency of operations, rather than production capacity.
Good said costs for ethanol producers could drop soon.
"If we end up with a good corn crop this fall, corn prices will come down quite a bit," Good said. "It looks like gasoline prices will stay somewhat high, and that provides some support for ethanol as well."