From here to there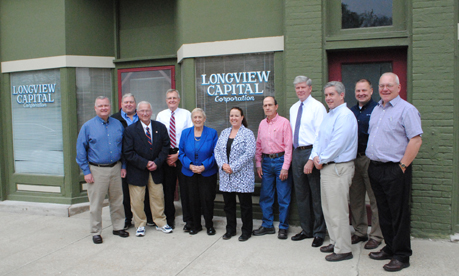 Photo by: Bridget Broihahn
Money does make the business world go around. And many in the banking industry would agree with that statement. However, there's more to it, according to Marjorie-Marge- Albin of Longview Capital Corporation, a bank holding company that is housed in Newman. This more than accomplished woman created together with her husband, John Albin, a true community banking system with LCC and the eleven banks and one loan company owned by the holding company. Their community banks support the local agricultural communities that they serve.
The company has 20 "missions" to their mission statement. Among them are: "Service is easy when you have a genuine concern for the person," and "Relationships are the measure of successful living." The word "money" does not even show itself once in any of the missions.
John Albin vice-president and director of LCC is a former board member of Parkland Community College and The News-Gazette Farm Leader of 1999. He is a graduate of the University of Illinois. Marge Albin is quite accomplished herself.
"Marge has served on the IFDA (Illinois Farm Development Authority).She also participated on the board that created the IFA (Illinois Finance Authority). Their mission is to provide access to low-cost capital to both public and private institutions, fostering economic development, creating and retaining jobs, and improving quality of life for Illinois residents," said Mary Clark, trust officer and marketing officer of Longview Bank in Ogden.
Clark said that when Jim Thompson was Governor of Illinois, he appointed Marge to a committee that was re-writing the Farm Bill.
"Marge represented five midwestern states," Clark said. "She spent a lot of time in Washington D.C."
The couple began farming in 1950. They saw the need for agricultural banking, as the local banks didn't really understand farmers' needs. They decided to go into banking by creating a charter. As luck would have it, on a vacation to Rio de Janiero, they met a man from Longview, Illinois, named Winston Churchill-no relation to the famous person of the same name- who owned a small bank that he wanted to sell.
"We bought the bank. Bill Fox of Champaign saw the potential and lent us the funds," Marge Albin said. "In its creation, the bank protected the farmers' interests and will go on doing so."
The semi-retired couple has handed the reins down to their sons: Perry Albin, chief executive officer of LCC and David Albin, president and director of LCC. They also serve on their bank boards and Midwest AgriCredit, and continue to create new ideas. They are joined on the LCC board of directors by Will Coolley, who is also a director.
"There's a big reward when you see success with the farmers," Coolley said. "We typically know our customers on a personal basis."
Their Midwest AgriCredit Company is an O.F.I., an "other financial institution," enabling the company to offer rates that help farmers through the ups and downs of the farming. There are only 37 of these institutions in the U.S. that serve the underserved and make those long-time relationships that help farmers and agricultural communities.
"Many of our employees have farming backgrounds," David McGee of Midwest AgriCredit said.
Tracy Epps of Bank of Gibson City said that the roots they have in the community means they share the successes with those of their customers. Doug Hasler of the State Bank of Crisman said they focus on the community and what is going on with them, not on the needs of the bank. They also extend those roots to the greater community.
"We formed the Longview Foundation to be our philanthropic arm of our business," Marge Albin said.
The foundation has helped initiate and support the Academy on Capitalism and Limited Government Foundation at the UI. John and Marge Albin are members of the academy's Founders Circle.
"We also created the Liberty Studies curriculum at the UI," John Albin said.
LCC has grown from that humble beginning and now has $400 million in assets.
"We're large enough to help others, as we like to do," Marge Albin said.